Volunteer to foster with APNM's Companion Animal Rescue Effort and you will be providing direct support to the animals of domestic violence victims.
If you can foster one animal (or more) for up to ninety days, please give us a call. We need temporary foster homes – mostly for dogs and cats – but also for birds, ferrets, horses, and other companion animals.
Did you know that nearly 70 percent of domestic violence victims delay leaving or reporting their abusers for fear of the safety of their companion animals? Did you also know that most domestic violence shelters do not allow animals? CARE provides safe, temporary housing so domestic violence victims can leave an abusive situation, build a new life, and then reunite with their animals.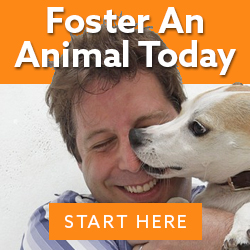 Animal Protection New Mexico's Companion Animal Rescue Effort (CARE) program needs your help so that we can continue to help victims of domestic violence become survivors. Companion animal foster homes are usually needed for 30, 60, or 90 days.
Ready to join the CARE Network? Please fill out the pre-qualification application for CARE service providers by clicking the button below. You will be contacted once our CARE program manager has reviewed your submission. Questions? Please call us at 505-803-3770 or email care@apnm.org.