Because fur is not enough
About the Straw Fund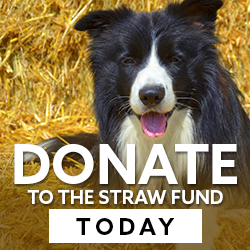 It's getting cold out there! Most jurisdictions in New Mexico require that companion animals be provided with adequate shelter from the elements. Unfortunately, none of them compel guardians to keep their animals indoors. APNM realizes that ideally, companion animals should be kept indoors with their families, but for less fortunate animals, a single bale of straw can keep three animals warm in their dog houses or shelters. A bale costs about $10.
Animal Protection New Mexico's Straw Fund ensures the availability of insulating straw as needed or requested for any backyard doghouse or outdoor shelter for companion animals within Albuquerque/Bernalillo County, Santa Fe/Santa Fe County, and Gallup/McKinley County through our partnership with these agencies:
City of Albuquerque Animal Welfare Department
Bernalillo County Animal Care Services
City of Santa Fe Animal Services Division
Santa Fe County Animal Control Department
McKinley County Humane Society
We want to expand the reach of APNM's Straw Fund to other locations in New Mexico. Your donation will allow us to partner with even more animal services departments to provide free straw for our furry friends living outdoors – whenever the need arises.
A gift to APNM's Straw Fund will help domestic animals living outdoors stay warmer when it's cold outside.
Where is free straw through APNM's Straw Fund currently available?
Free straw provided by APNM is available through the following agencies/locations:
The City of Albuquerque Animal Welfare Department's Eastside and Westside shelters. For pick-up information, please call 311 if you are in Albuquerque.
Bernalillo County Animal Care Services office at 3001 2nd St SW, Albuquerque, NM 87105. For pick-up information, please call 505-468-7387 if you live in unincorporated areas of Bernalillo County.
City of Santa Fe Animal Services. If you reside in Santa Fe, please call 505-955-2702.
Santa Fe County Sheriff's Animal Control Division. If you reside in unincorporated areas of Santa Fe County, please call 505-992-1626.
McKinley County Humane Society, 505-863-2616.
How to donate to the Straw Fund!
Straw is effective, inexpensive insulation—just one bale can help keep three animals warm! At under $10 per bale, even small contributions to APNM's Straw Fund go a long way toward providing cold weather protection for companion animals living outdoors. Thank you! It's easy to contribute! Please visit our Donation Page or call us at 505-265-2322.
Other Cold Weather Tips for Companion Animals
The safest and most comfortable place for your domesticated companion animal, is indoors. If you are cold they are cold and where you are most comfortable, they will be most comfortable.
If your companion animal has symptoms of hypothermia (uncontrollable shivering, pale or blue lips or gums, lethargy, muscle weakness, a noticeable decrease in coordination, heart rate, respiration, or pulse), seek emergency veterinary medical care immediately!
A companion animal whose health is compromised, juveniles, small adults, seniors, those with short hair or little body fat, are most at risk. When temperatures start dipping below 50°F, those at risk should be housed indoors overnight, especially when the chilling effects of wind, rain, snow, sleet, or hail must be taken into account.
Dog houses and other companion animal enclosures should be waterproof and placed so that open areas are sheltered from the wind and/or any precipitation. Plastic "igloo-type" doghouses are windproof and waterproof, but they can easily become overheated if they are too small, lack sufficient air circulation, or are in direct sun all day.
Food and water bowls should be checked every few hours for freezing. Heated bowls manufactured specifically to prevent freezing are available.