APNM offers rewards related to especially egregious animal cruelty cases for which an offender has not been identified and prosecuted. Reward levels are based on a combination of the number of animals harmed, the type of violence perpetrated on the animal(s), and whether the animal(s) lived or died. These rewards are always offered in cooperation with law enforcement.
We have paid out rewards of up to $10,000 per case to tipsters for providing information leading to the arrest and prosecution of the responsible party. Of course, not every reward offer results in an arrest and prosecution, but each does send a strong message that animal cruelty is a crime that will not be tolerated in New Mexico's communities.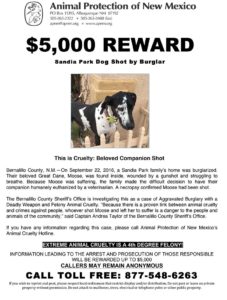 APNM's Reward Program at Work

Moose, a young, friendly Great Dane, was home alone in the summer of 2016 when a burglar broke in, shot Moose, and left her to die. After returning home to find their beloved dog bleeding and struggling to breathe, the family and their veterinarian took the only action they could to ease her suffering—Moose was humanely euthanized. After APNM offered a $5,000 reward, a tipster came forward with information that led to the arrest of the alleged shooter, who was charged with multiple offenses, including Conspiracy to Commit Aggravated Burglary with a Deadly Weapon, Contributing to the Delinquency of a Minor, Burglary of a Vehicle, and Extreme Cruelty to Animals.