The Acre Comfort Vegetarian – Website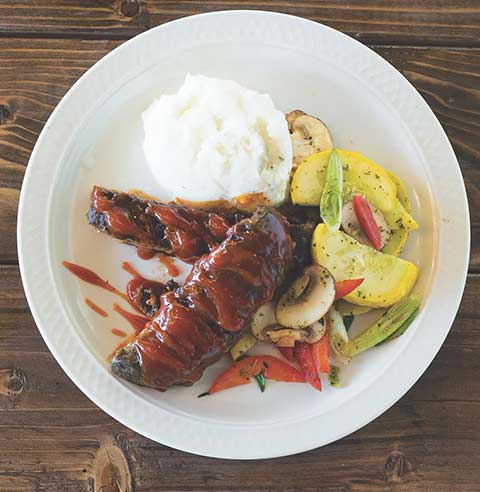 The Acre Comfort Vegetarian Restaurant
4410 Wyoming Blvd NE, Albuquerque, NM 87111
theacrerestaurant.com
(505) 299-6973
Open Monday-Friday 11am – 9pm
Saturday & Sunday 10am – 9pm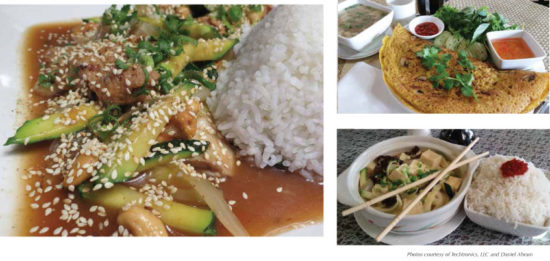 APNM reviewers asked owner and chef William Liechty if they could take a picture of him in his Albuquerque vegetarian/vegan restaurant, An Hy Quán, to accompany this article. He respectfully declined and said that he would rather focus on the food, adding "the menu is really compelling." He was right. The extensive menu for his mostly Vietnamese-influenced restaurant includes rice and noodle dishes, clay pot reductions with different varieties of mock fish, stir fries, and soups. The flavors are diverse, the ambience is simple and pleasant, and the prices are reasonable for the fairly large portions.
Thit chay xào hat diêu, or Cashew Mock Pork is one of An Hy Quán's most popular dishes. When they first offered the dish on the menu, the mock pork was vegetarian, not vegan, containing egg as a binder. They decided to start making their own vegan version of the 'meat,' and the dish "just exploded" in popularity. The nicely textured protein is joined with zucchini strips, sesame seeds, and whole cashews, cooked in a rich, nutty brown sauce and served over jasmine rice.
Patrons will also enjoy the Bánh xèo, or Special Crêpe. The large crêpe is made from mung bean flour, and a touch of turmeric, with scallions and mushroom slices cooked into it. The heavy, earthy flavor is nicely offset by the fresh filling of bean sprouts, shredded carrots and thinly sliced jicama, and is drizzled with a sweet and sour sauce.
Leichty learned the restaurant trade from his mother, Huong Thao, who opened a restaurant named after her in 1991. She insisted that when her son opened his own restaurant, that it be meat-free. She is a Buddhist and would often cook vegetarian meals for the family. Leichty agreed and started eating exclusively vegetarian/vegan himself when he was developing the menu. "I was an unapologetic carnivore," he said. "I ate meat all the time, to the detriment of my health. We opened in September 2013, and by January I had lost 20 pounds!" He also explained that he was tired of dealing with the mess meat made, and he didn't want to open just another Vietnamese restaurant. He will soon be adding vegan dishes to the menu that are inspired by Korean and other Asian cuisines.
Visitors to An Hy Quán should be sure to check the specials board when they arrive. In particular, look for Clay Pot with black button mushrooms and tofu in a creamy macadamia soup. It is exquisite! For a rich and refreshing, not-too-sweet beverage, try the Avocado Shake. It's an unexpected treat.
An Hy Quán Vegetarian Restaurant
1405 Juan Tabo Blvd NE
Albuquerque, NM 87112
AnHyRestaurant.com
(505) 332-8565
Open Tuesday-Sunday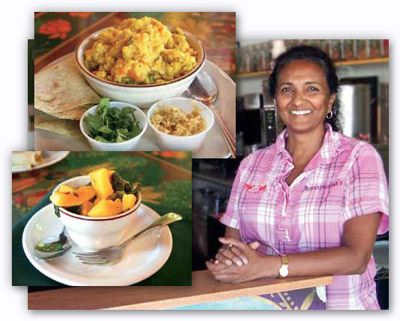 Annapurna, "The Place for Healing Cuisine," is celebrating ten years of offering homestyle, organic vegan and vegetarian meals to those yearning for delicious foods that nourish their body. Everything about Annapurna says "comfort." As soon as you walk in the door, you can take a deep breath, relax and get ready to enjoy their life-affirming foods. The aroma of a vast array of dishes immediately greets you at the door, inviting you to try one of everything from its eight-page menu!
It can be hard to choose from the dizzying array of choices such as soups (all are vegan), the Green Plate, the Chef's Plate, specialty salads, stir-fries,
their specialty vegan samosas, and Annapurna's signature Ayurvedic foods that maintain optimum health and use fresh organic ingredients. For the less adventurous, even American style meals are offered, but are made from scratch and are more healthconscious versions of old favorites. The Thai Stir Fry includes rice noodles and a variety of vegetables in a rich coconut milk broth. Their "veggies of the day" are prepared to help you love eating your veggies. Staples like butternut squash and greens, spicy potatoes with yellow squash and black-eyed peas with carrots and greens are delicious and satisfying.
While ordering your meal, you can't resist the luscious desserts presented in a showcase featuring pies, bars, carrot cake, several varieties of cookies (such as almond and sesame coconut), and a "to-die-for" coconut cream pie. 14 of 15 desserts are vegan. Annapurna is known for its authentic but nonvegan chai, but it does offer a vegan "world chai," as well as over 50 kinds of teas, a refreshing ginger-lemon drink, and too many other beverages to name.
Nothing is ordinary at Annapurna, including the brightly colored walls and tapestries, the soothing music, even the lovely paintings on the tables. Once you try the food, you might just want to come back every night. Annapurna offers a "loyalty card" so you can accumulate credits for purchases: $50 total earns you $5 off a purchase. But for the more ambitious, you can learn how to cook the foods you love by attending Annapurna's cooking classes offered once each month.
2201 Silver Avenue SE
Albuquerque, NM 87106
505-262-2424
Mon.-Fri. 7a-9p
Sat. 8a-9p
Sun. 10a-8p
5939 4th Street NW
Albuquerque, NM 87107
505-25402424
Mon.-Sat. 8a-9p (summer) or 8p (winter)
Sun. 10a-8p
1620 St. Michaels Drive
Santa Fe, NM 87505
505-988-9688
Mon.-Sat. 9a-9p (summer) or 8p (winter)
Sun. 10a-8p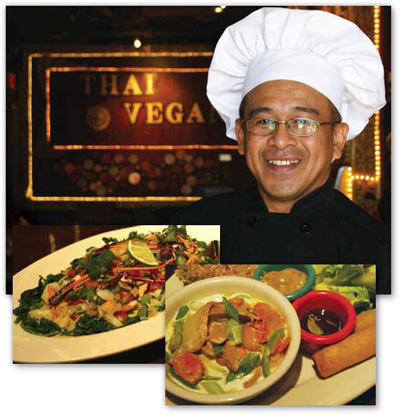 From the moment you walk through the doors of Thai Vegan, you're enveloped in sultry, exotic colors of deep red and gold. This is good preparation for the culinary delights to follow. Forget about the 'vegan' for a moment and think about what makes great Thai cuisine: fresh market ingredients, South Seas spices, fire and sweetness with citrus overtones. Your palate will indeed be ablaze with flavors when you dig into the luscious offerings at this cozy, NE Heights restaurant.
For a light, fresh start to your meal, the Spring Rolls will ruin you for Spring Rolls anywhere else. These are light, healthy, and deep-fried – though you'd be hard-pressed to believe that they are, since there is no visible oil anywhere on the rolls. Freshy Rolls take things one healthy step further: wrapped in rice paper and served cold, they are a cool, light, appetizing start to your meal.
The salads are fresh, crunchy, creative, and topped with perfect dressings. For the epitome of powerful raw flavors, the Green Power Salad combines Romaine lettuce, tomatoes, carrots, red cabbage, avocado, cucumber, edamame, red onion, and a heart-healthy Omega-3 source: walnuts.
Don't visit Thai Vegan without indulging in their curries: red hot Red Curry, infused with coconut milk, basil, bell pepper, bamboo shoots, and spices; perfectly medium Green Curry, which highlights spicy green chili paste; and mild but intense Yellow Curry, which tempers the heat with potatoes and carrots.
On a recent visit, we tried the day's special, Spinach with [Soy] Shrimp and Noodles. That simple name was a much too demure title for the intense, mouth-watering flavors. Spinach and coconut married with spinach noodles, vegetables, and fresh cilantro became an irresistible combination . The Thai cuisine stand-bys, such as Pad Thai, Fried Rice, and Spicy Noodles are anything but stand-by here. When you aren't relying on animal fat to flavor your dishes, the extra care and artful creativity that goes into the preparation shows here. For the true meat die-hards, they do offer soy chicken, soy beef, and soy shrimp, which pair beautifully with their vegetable recipes.
Service here is attentive, polite, and may even include a visit from Chef/Owner "Pat," to make sure you are thoroughlyenjoying your meal. The menu is extensive, with perhaps the most intriguing section in the A la Carte section in the back.Here, the chef's talents are truly on display. P.E.T. stands for
pumpkin, eggplant, and tofu stir fried in garlic sauce with bell pepper, basil, and chili. Mint Leaves is a spicy dish seasoned with stir-fried mint leaves, and the Cashew Nuts dish brings this protein-rich nut to life in a flavorful Thai sauce.
If you're overwhelmed by the choices, sample a bit of several dishes with the moderately priced Lunch or Dinner Combination plates. Steamed brown rice in a heart shape reminds you that you're eating heart-healthy… and compassionately.
5505 Osuna Rd NE
Albuquerque, NM 87105
505-884-4610
Mon. – Sat. 11a-9p
Sun. 5p-9p
No alcohol served
Edible Alchemy – Website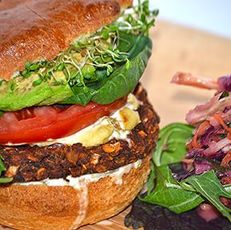 [REVIEW NEEDED]
815 Early St B, Santa Fe, NM 87505
(505) 983-8152
Mon-Fri 11am – 3pm