FOR IMMEDIATE RELEASE
June 29, 2020
Press Contact: Alan Edmonds, APNM Cruelty Case Manager: (505) 506-4000 / alan@apnm.org
Corrales, NM—On Thursday morning, June 25, 2020, New Mexico Livestock Board (NMLB) inspectors were called to investigate the killing of a horse in Corrales, NM, where they found Rocky, a Welsh Pony, dead in his stall and partially butchered. Rocky had been stabbed in the chest, and flesh had been cut from his body and removed from the scene. NMLB investigators continue to search for witnesses and evidence in this gruesome case.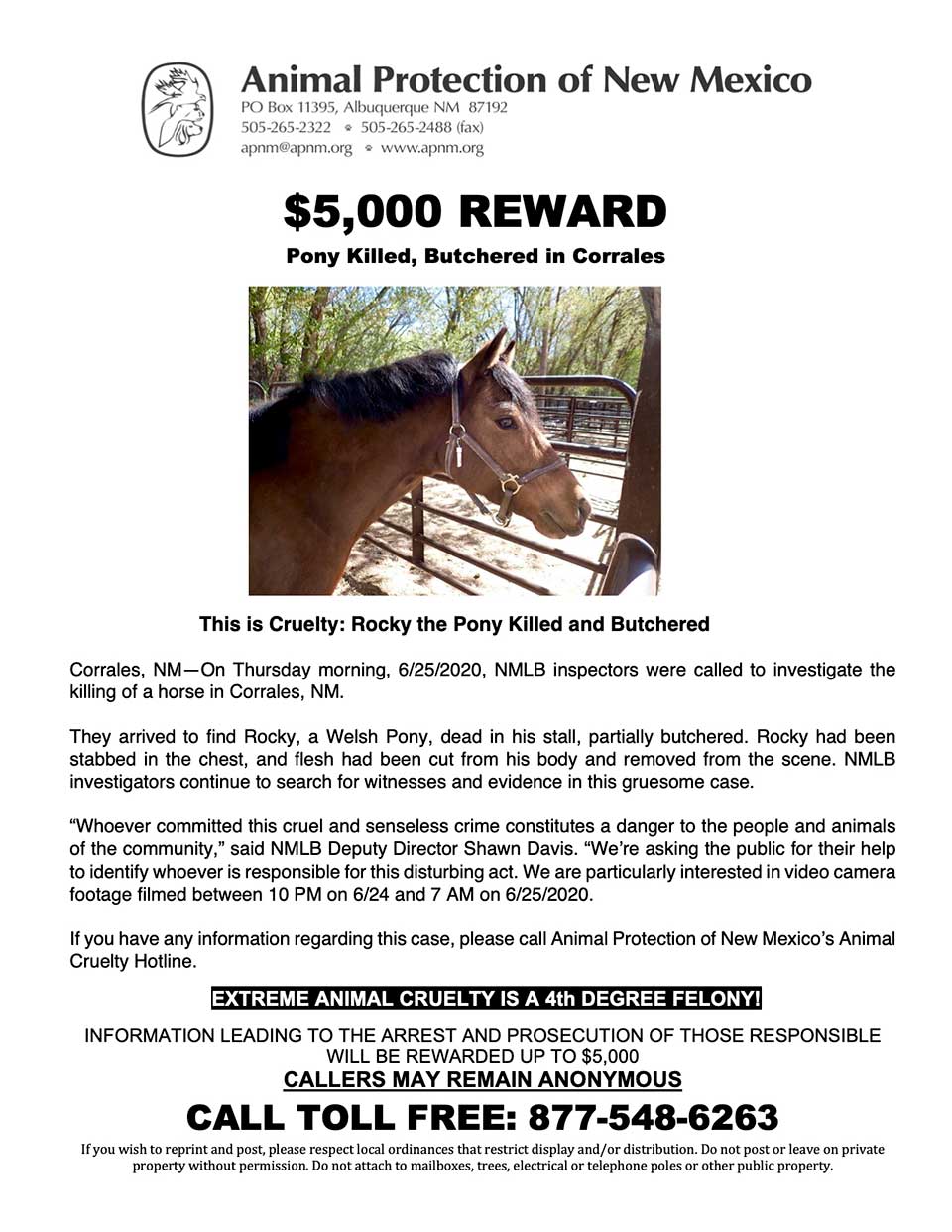 "Whoever committed this cruel and senseless crime constitutes a danger to the people and animals of the community," said NMLB Deputy Director Shawn Davis. "We're asking the public for their help to identify whoever is responsible for this brutal crime. We're particularly interested in video camera footage filmed between 10 PM on 6/24 and 7 AM on 6/25/2020."
Animal Protection New Mexico Cruelty Case Manager Alan Edmonds noted, "This heinous act constitutes Extreme Animal Cruelty under the NM State Statute. We hope this reward offer will result in the arrest and prosecution of whoever is responsible for killing and mutilating Rocky. Please call with any information you may have about this disturbing and alarming case."
Information leading to the arrest and prosecution of those responsible will be rewarded up to $5,000. If you have any information regarding this case, please call Animal Protection New Mexico's Animal Cruelty Hotline: 877-548-6263. Callers may remain anonymous.