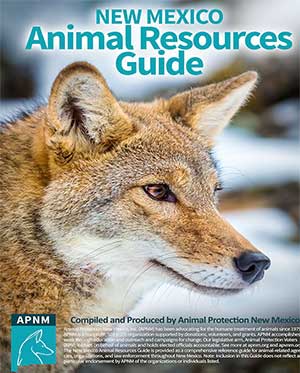 The New Mexico Animal Resources Guide is designed to provide citizens with a comprehensive list of those entities in New Mexico which offer services related to animals.* In recent years, the public has become more and more concerned about the plight of animals in our society, and this Guide can serve as a reference for those wanting to work to help and protect them.
Animal shelters and rescue organizations: If you would like your organization to be added to the New Mexico Animal Resources Guide, or need your contact information updated, please contact us.
*Animal Protection New Mexico, Inc. does not necessarily endorse or recommend individuals, agencies, or rescue groups contained herein.
ALSO SEE: Searchable Animal Resources Guide
ALSO SEE: Spay-Neuter Resources in New Mexico
If you don't find what you're looking for or if you have an addition or update, please contact us.