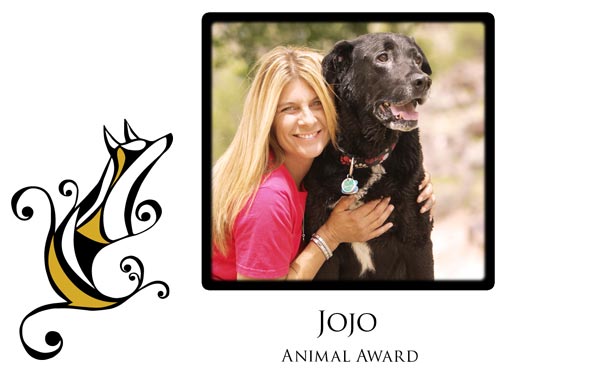 At each Milagro Awards, we feature an Animal Award for exceptional animal courage and/or intelligence. This year the award goes to JoJo, a twelve-year old black Labrador mix who, in 2004, broke free from the chain that kept him constantly tethered. When he "rescued" his new forever human companion, Angela Stell, the chain was tightly wrapped around his neck, he was emaciated and had lost much of his fur. JoJo's gentle nature, fierce determination and ability to work with other dogs was the inspiration for the 2011 founding of NMDOG, a nonprofit rescue group focused on helping the most vulnerable dogs who have been chained, abused or abandoned. Jojo has accompanied the all-volunteer staff of NMDOG on countless rescue missions, "riding shotgun" in search of injured strays. He has played the leading role in video PSAs and other promotional material for the group, and has advanced the work of NMDOG at educational events at schools, nursing homes and safety classes.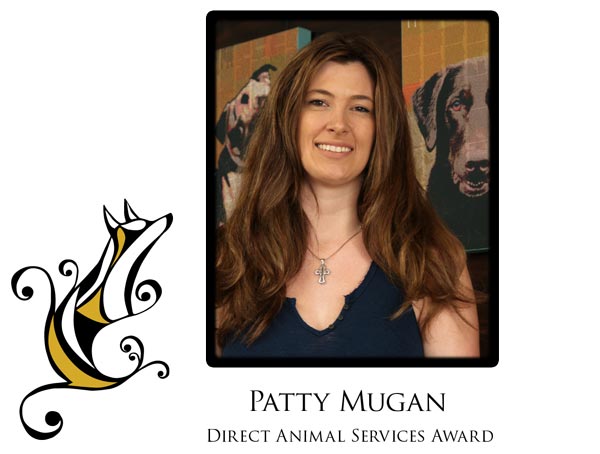 The Direct Animal Services Award for efforts that directly improved the lives of animals and for alleviating the pain and suffering of companion animals, farm animals, livestock and/or wildlife, goes to Patty Mugan. Patty Mugan is the Shelter Supervisor and Transfer Coordinator for the Valencia County Animal Control Division. She began her work there in 2008 as a volunteer and initiated an animal transfer program she has streamlined over the years. Her "little idea" to get proper veterinary care and transport services for harder to adopt animals to out-of-state rescue groups has become a core program of the county shelter. Thanks to the program Patty developed, a lot of miles logged and late night transfers, the euthanasia rate of the Valencia County Shelter has dropped dramatically giving well over 2,000 dogs and cats each year a second chance at finding their forever home.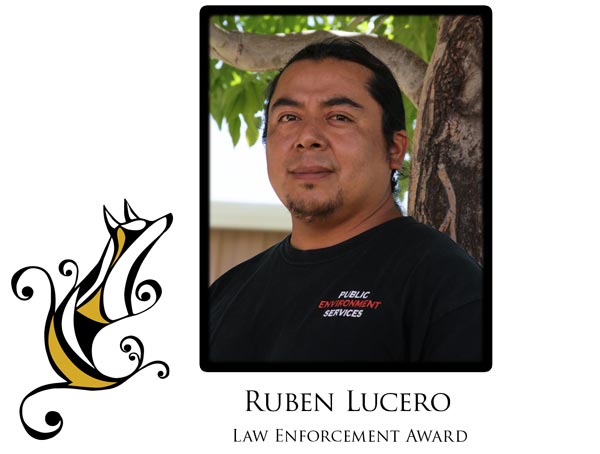 The Law Enforcement Award for exceptional commitment to the effective and timely enforcement of laws that protect animals goes to Ruben Lucero. Ruben Lucero served as an Animal Control Officer for the Pueblo of Isleta from 2009 to 2013. During his tenure there he was dedicated to changing practices and attitudes harmful to animals, and to building public awareness about the plight of animals and animal suffering. Throughout the years he built alliances and increased resources for fellow officers, children and the public. Ruben sought training for himself and other officers through the National Animal Care & Control Association (NACA) and the National Animal Cruelty Investigations School with the Law Enforcement Training Institute through the University of Missouri. With the help of the Indian Health Service and Rocky Mountain Puppy Rescue, he set up vaccination and low cost spay/neuter clinics for the Pueblo. He also worked to strengthen the Pueblo's Animal Control Ordinance, which imposes stiffer fines and penalties for animal cruelty.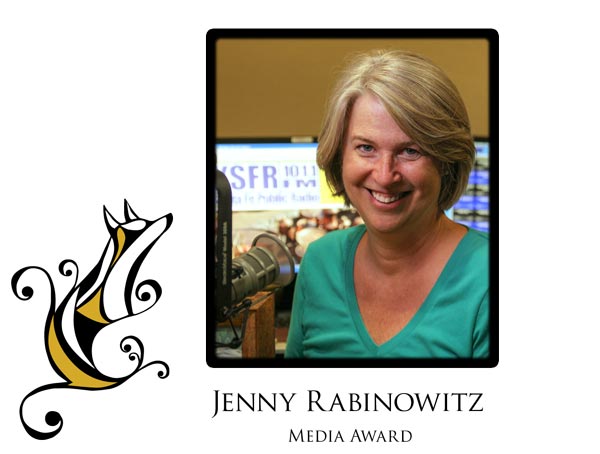 The Media Award, for spotlighting animal issues with courage, creativity and integrity, goes to Jenny Rabinowitz. Jenny Rabinowitz is the host of "Animal Talk," a program about existing and emerging animal policies on KSFR-FM Santa Fe, northern New Mexico's public radio station. Jenny, a clinical social worker, moved to New Mexico in 2009 and began volunteering for animal welfare nonprofits, which inspired her to propose the program in 2013. Jenny has used the "air time" to spotlight numerous state and local animal issues ranging from spay/neuter funding, companion animal overpopulation, animal shelter improvement needs, horse slaughter, animal killing contests, animal trapping and so much more. She has also covered national/international issues such as commercial whaling, animal trafficking and animal experimentation and research. She addresses these issues with courage, creativity and journalistic integrity. Jenny recruits to the program a diverse set of guests that represent New Mexico and the nation. From policymakers to shelter managers to mental health professionals, Jenny's interviews have proven to be a powerful driver of public awareness and a catalyst for positive change in New Mexico.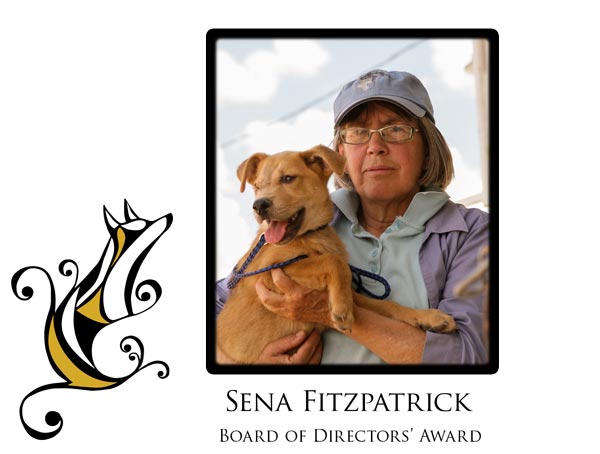 The Board of Directors' Award, for lifelong commitment to animal rights, goes to Sena Fitzpatrick. Sena Fitzpatrick has been an active animal advocate in the Gallup/Four Corners region of New Mexico for over three decades. As a volunteer for the McKinley County Humane Society in Gallup, she has brought her passion and individual resources to bear to significantly better the lives of companion animals in an area of the state marked by poverty, unemployment and lack of services. She has successfully organized spay/neuter and vaccination programs for low-income families, and often drives animals to and from the clinic herself. She has reported numerous cruelty cases in the region over the decades, and has directly assisted with animal transportation in hoarding cases. Sena has been a champion for equine protection, ensuring numerous stray and starving horses were provided care at the local shelter. In 2013, Sena gathered 17 foals orphaned in a horse roundup and secured sanctuary for the animals, which would surely have gone to slaughter in Mexico.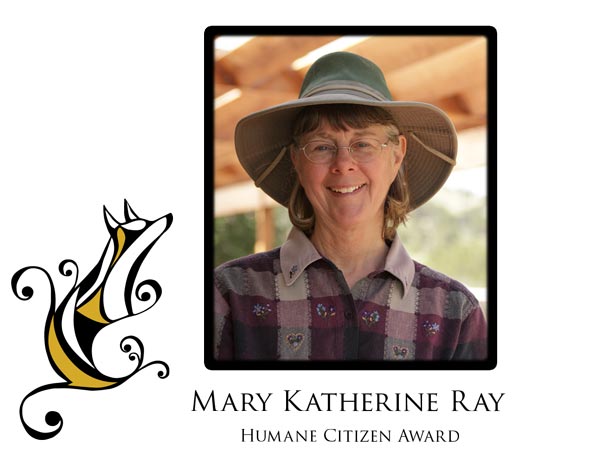 The Humane Citizen Award, for efforts by a private citizen to promote the humane treatment of animals using a variety of approaches and methods, goes to Mary Katherine Ray. Mary Katherine Ray has been a true grassroots animal advocate for wildlife protection for decades. Mary Katherine is particularly active in efforts to ban cruel body gripping traps and poisons on New Mexico's public lands. She began volunteering with the Sierra Club when her dogs were almost caught in trap that shut so tightly she would not have been able to open it. Her involvement deepened when she encountered a coyote caught in a leg-hold trap. By the time Mary Katherine could get back with additional help for the animal, the coyote had escaped the trap, leaving behind her paw in its jaws. With a BS in biology, extensive knowledge of New Mexico Department Game and Fish rules and practices, and a passion for wildlife, she has served as an expert witness before House committees debating wildlife legislation and has testified at numerous Game Commission hearings. Mary Katherine has helped gather many thousands of petition signatures against the use of traps for the Trap Free New Mexico coalition. Those who work with Mary Katherine describe her as tenacious and unwavering, but also soft-spoken, respectful and modest.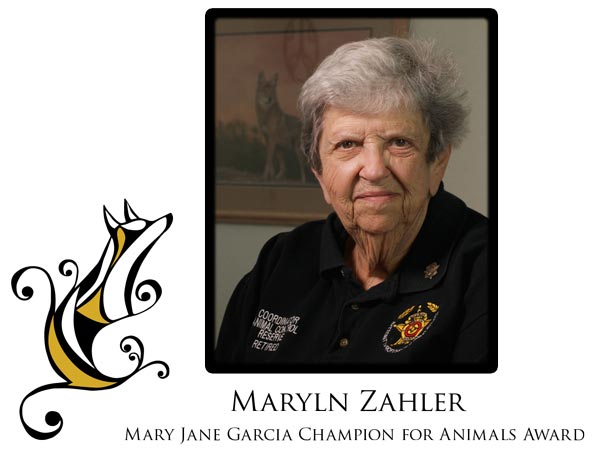 The Mary Jane Garcia Champion for Animals Award, for exceptional leadership, courage and persistence in the face of opposition, resulting in positive change for animals, goes to Maryln Zahler. Maryln Zahler was the former Vice President of the Board of Directors for the Humane Society of Southern New Mexico, and was recently designated as its Director Emeritus. Maryln's contribution to the protection and welfare of New Mexico's animals has been diverse and extensive. She initiated a low-cost spay/neuter program in Las Cruces and has served on New Mexico's Animal Sheltering Board's Finance Committee. She has worked extensively with the Doña Ana County Sheriff's Animal Control Department to improve its animal holding facilities and helped secure a mobile emergency surgical van to assist with disaster response and animal hoarding cases. She was among the early participants on a community team to revise the Doña Ana County Animal Control Ordinance, the passage of which eliminated many outdated and unenforceable rules. Senator Mary Jane Garcia will be attending the 2015 Milagro Awards to present the award in person to Maryln! Don't miss it!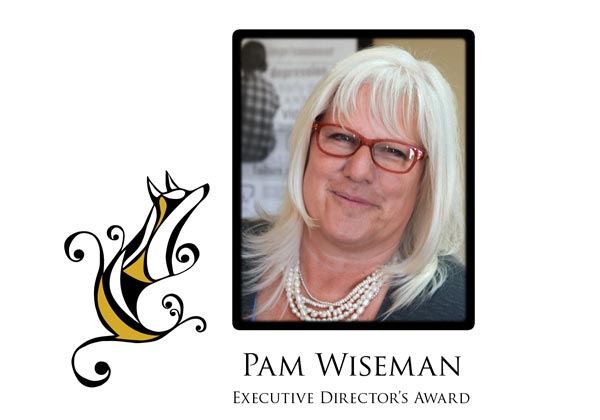 The Executive Director's Award, for outstanding support of APNM's mission and program, goes to Pam Wiseman. Pam Wiseman is the Executive Director of the New Mexico Coalition Against Domestic Violence (NMCADV) and has been an outspoken advocate for victims of domestic violence, both human and non-human for over 20 years. Her understanding of the bond between human caregivers and their companion animals prompted her to reach out to Animal Protection New Mexico and initiate a vital partnership between the two organizations that has led to state funding support for the Companion Animal Rescue Effort (CARE) program that provides safe havens and other services to the animals of domestic violence victims. The partnership she created has provided a critical resource for victims trying to leave abusive situations, but who fear for the safety of their animals.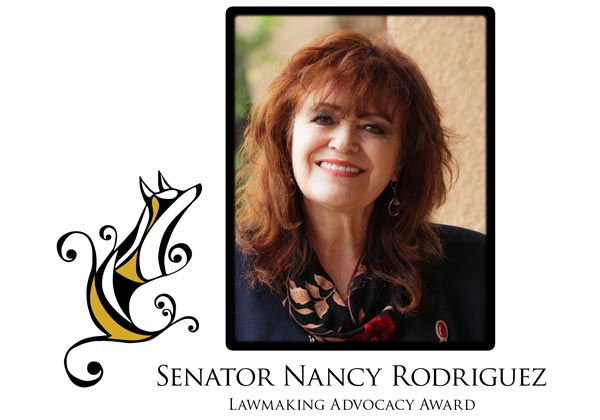 The Lawmaking Advocacy Award, for efforts that resulted in the passage of animal protection legislation, goes to Senator Nancy Rodriguez. Senator Rodriguez has served in the New Mexico Legislature since 1996, nearly 20 years. In 2014, the Senator introduced SB187, which passed and was signed into law, appropriating $50,000 to the NM Children, Youth and Families Department (CYFD) for programs aimed at helping victims of domestic violence escape abusive homes by providing secure, temporary safe havens for their animals. The Senator did so again in 2015 with SB178, this time securing the funding as a recurring expenditure in the CYFD budget. The funding will be used to advance and implement the work of APNM's Companion Animal Rescue Effort (CARE) Program through a partnership between APNM and the New Mexico Coalition Against Domestic Violence (NMCADV). Senator Rodriguez has a proven track record in animal protection legislation, including efforts to pass a ban on animal fighting. Since 2006, Senator Rodriguez has scored 100% in favor of animal protection measures on the Animal Protection Voter's (APV) Annual Legislative Scorecard.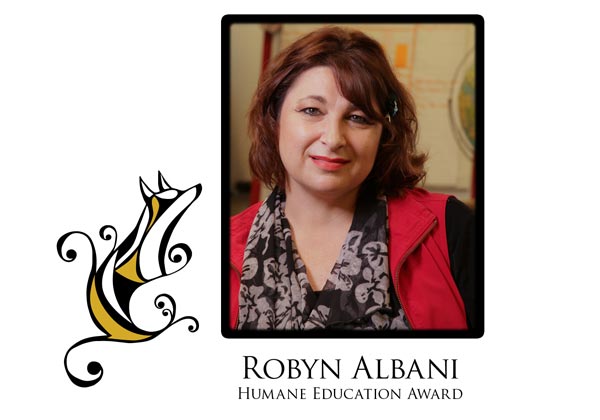 The Humane Education Award, for innovative classroom, public, private or civic education efforts that fostered humane ethics in youth, goes to Robyn Albani. Robyn Albani hosted the very first APNM school-based humane education program, The Animal Connection, in her 5th grade classes at Valencia Elementary School in Los Lunas, in a neighborhood known to have one of the highest rates of animal abuse and neglect in the state. She has proactively incorporated humane education in her curriculum and has advanced student service learning through student-organized animal supply drives for the Valencia County Animal Shelter. She activated her colleagues at the school to become involved in animal welfare through foster care giving. Over 50% of the staff at her school permanently adopted a companion animal through Robyn's rescue work. Robyn is active in her community on-the-ground through reuniting strays with their families, encouraging foster care service and helping with veterinary care and adoptions.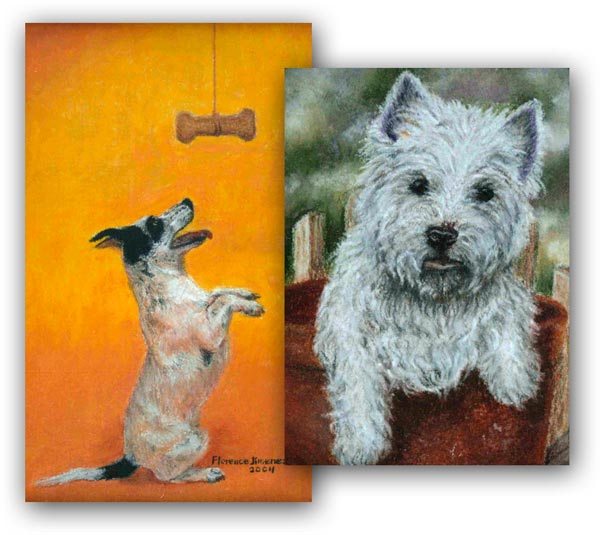 Don't miss an extensive silent auction featuring the animal artwork of long-time animal advocate and local artist Florence Krick-Jimenez – only at the 2015 Milagro Awards!
Since 2000, APNM has been "catching people in the act" of doing good things for animals, and recognizing them for their humanitarian efforts at its Milagro Awards ceremony, now held every four years.


APNM believes in publicly recognizing and thanking those who go out of their way to improve the lives of animals in New Mexico. By bestowing Milagro Awards on those in the community who have made a marked difference for animals, APNM gives public credit to champions for animals. We believe that by doing so, we make it clear that those who work to help animals and promote compassion will be held up as models in our communities.
APNM's Milagro Awards recognize individual and collaborative acts of humane integrity in the following categories:
Advocacy Award
Animal Award
Board of Directors' Award
Direct Animal Services Award 
Executive Director's Award
Humane Citizen Award
Humane Education Award
Law Enforcement Award
Lawmaking Advocacy Award
Mary Jane Garcia Champion for Animals Award
Media Award
Spirit of the Mission Award
Youth Award