Our new logo represents the evolution of our old Animal Protection New Mexico logo to an identity that more closely matches our brand today. A brand that reflects our personality: strong, determined, fearless, compassionate, and enduring.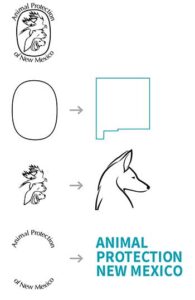 The generic oblong shape was moved toward the iconic shape of the state of New Mexico, reflecting our scope and focus.
The bird, mountain lion, and dog stacked drawings were replaced by a single, powerful, symbolic animal icon…the coyote — looking towards the future, while safe and protected within the state (outline) of New Mexico.
The curved type of our name was replaced by stronger, bolder, and easier-to-read type. And we dropped the "of" in our name to make a stronger, more succinct statement about who we are and what we do.
In 2019, we celebrated our 40th anniversary. We are poised to protect animals throughout New Mexico for the next 40 years…and beyond. And we promise to work diligently towards making New Mexico a kinder, safer place for all beings as we eliminate cruelty to animals.
To see how our legislative arm, Animal Protection Voters, is now branded more closely with our new logo, visit apvnm.org/newlogo.