Animal Protection Voters
All animals deserve protection from cruelty, neglect, and exploitation.
But real, lasting, systemic change for animals is only possible with strong laws on the books. And enacting these laws is not easy—it takes the tireless work of compassionate, determined, politically savvy, and well-organized advocates who will be the voice for animals in our government.
That's where Animal Protection Voters comes in.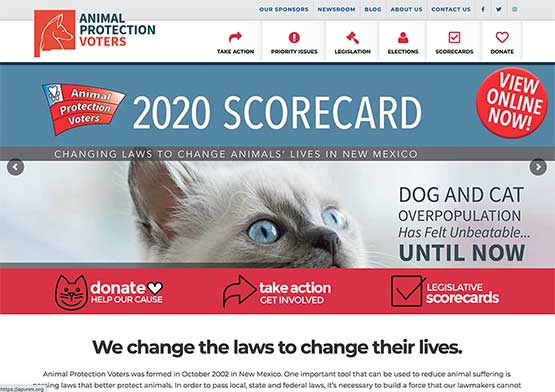 For years, Animal Protection Voters has been on the frontlines of changing laws to improve animals' lives—making New Mexico's communities more humane, safe, and compassionate for everyone.
Animal Protection Voters is a separate 501(c)(4) nonprofit organization, but serves primarily as the legislative arm of Animal Protection New Mexico, with a mission to:
Actively promote and support animal-friendly legislation in New Mexico at the local, state and federal levels;
Build an effective political voice for animal advocacy in New Mexico; and
Hold New Mexico's elected officials accountable on animal issues.
Since its inception, Animal Protection Voters has: 
Banned grotesque coyote killing contests statewide ← NEW! (Passed in 2019)
Established a new sustainable, robust annual funding source for statewide low-cost spay/neuter services ← NEW! (Passed in 2020)
Passed a law making cockfighting illegal
Passed a law making extreme animal cruelty a felony crime
Passed a law banning the cruel sport of horse tripping
Passed a law making dog fighting a fourth-degree felony
Passed a law giving law enforcement agencies the option of getting reimbursed by those charged with animal cruelty for the cost of care of seized animals
Passed a law to require the sale of only bitter antifreeze to protect animals and children from accidental and intentional poisoning
Passed a law creating and funding a state board to oversee animal shelter and euthanasia standards
Secured millions of dollars in state funding for animal-related capital projects and programs, and services (for example, shelters and spay/neuter clinics)
Secured $50,000 in recurring state funding for emergency housing for animals of domestic violence victims.
Animal Protection Voters is the only organization of its kind in New Mexico, dedicated solely to protecting all animals in our state, through critical legislative and political action.
Learn more about Animal Protection Voter's work. Visit APV's Website »