The staff, volunteers, and board members of APNM and APV adhere to a set of powerful guiding principles to conduct their life-affirming work in the community. The Milagro Awards grew out of two of those principles: "Publicly recognize champions for animals" and "Encourage involvement of diverse partners." This formal ceremony honors individuals and groups from across New Mexico who have, through courage, collaboration, compassion, and self-sacrifice, advanced the well-being of animals in remarkable ways.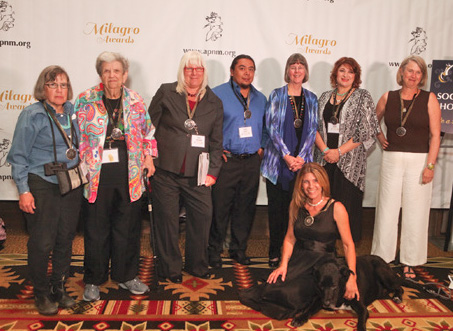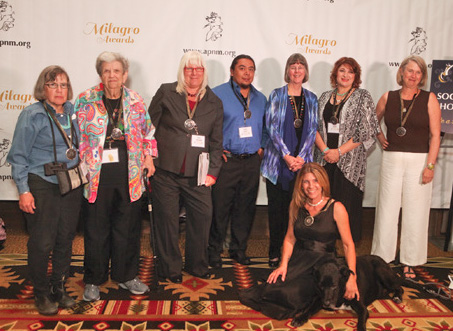 300 supporters from around the state gathered on a beautiful October day to honor the diverse, lifesaving work of ten 2015 Milagro Award recipients. APNM recognized a citizen volunteer, a shelter professional, a nonprofit executive, a radio host, a law enforcement officer, a board director, a biologist, a senator, a teacher, and a canine hero. The ballroom of the serene Tamaya Resort in Bernalillo was a fitting venue for the esteemed winners who approached the stage amid music and applause. Attendees watched a professionally produced video documentary about each winner's struggles against adversity, perseverance, and ultimate achievements. APNM staff and board members, and two special guests—Ingrid Newkirk, President of People for the Ethical Treatment of Animals (PETA), and former New Mexico Senator Mary Jane Garcia—bestowed each winner with a personalized, handcrafted silver medallion created by Ohkay Owingeh artist Andrew Garcia.
Moving and emotional acceptance speeches from the Milagro winners conveyed hope for the future and gratitude for the spirit of collaboration that APNM steadfastly promotes.