Many wild animals are cute, especially babies, and it might be tempting to try and care for one on your own. This is not a good idea! Wild animals can be aggressive and can carry parasites and diseases that may be transmissible to you or your companion animals. Wildlife rehabilitators have the facilities and knowledge to address the very specific needs of various wildlife species.
If you discover orphaned, sick, or injured wildlife, the following information will help you decide how to best assist the animal(s) in need.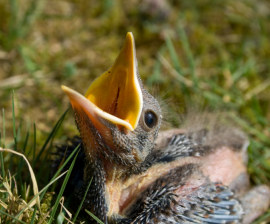 BABY BIRDS: Many baby birds are mistaken for orphans during a short "fledgling" period where they have left the nest, but still rely on mom and dad for food. Fledgling birds on the ground are often assumed to be injured or abandoned. This is not usually the case! Do not move these little birds unless they are in immediate danger of being hit by a lawnmower, stepped on, etc. If absolutely necessary, it is OK to move a fledgling a short distance to a safer place—the parents will find their chick. It is a myth that birds will reject babies touched by humans.
Keep a close eye on any chick you think has been abandoned. If the parents do not return to feed it within an hour or so, call a wildlife rehabilitator. Never attempt to give a baby bird water!
Information on immediate care for baby birds »
INJURED BIRDS: Birds that have flown into a window may just be stunned and can probably be released after a little bit of rest. Place the bird in a box and put it in a quiet place until you are sure whether the bird is seriously injured or not. Birds that have been poisoned or have other obvious injuries should be taken to a wildlife rehabilitator immediately.
Remember, outside cats are a leading cause of death to songbirds in this country. Please do not allow your cat to roam outside! Even well fed cats will hunt birds if given the chance.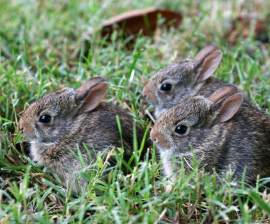 BABY RABBITS: Baby rabbits live in nests (called warrens) that are sometimes accidentally uncovered by people. If you uncover a warren, the best thing to do is to gently herd the babies back to the nest and leave them alone. Baby rabbits are easily stressed and extremely difficult to keep alive once they are out of their mother's care. Please do not handle them unless absolutely necessary. They are extremely cute, but will probably not survive if you try to raise them on your own. While they can be cared for temporarily, baby rabbits should be taken to a wildlife rehabilitator as soon as possible.
Any rabbit with eyes open, ears up, able to hop, and otherwise appearing healthy is almost certainly grown enough to leave the warren. Leave them alone.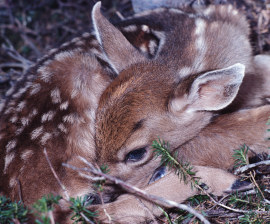 DEER FAWNS: Mother does will often temporarily leave their fauns alone in order to graze. If the faun appears healthy, do not disturb them.
However, if the faun appears diseased, injured, or confused, contact a wildlife rehabilitator or authorities (park rangers, game wardens, animal control, etc.).
OTHER BABY MAMMALS: If you accidentally uncover a nest of baby wild mammals, leave them alone—the mother may be away looking for food and will return shortly. However, if you encounter baby mammals in a situation where the mother is dead or the young animals appear injured, sick, or confused, intervention may be appropriate. Please refer to the New Mexico Animal Resources Guide for a comprehensive list of those entities in New Mexico which offer services related to animals.