WARNING: THIS PAGE CONTAINS DISTURBING IMAGES DUE TO THE VIOLENT NATURE OF THE FEDERAL GOVERNMENT'S MASS SLAUGHTER OF WILDLIFE IN NEW MEXICO AND ACROSS THE UNITED STATES. VIEWER DISCRETION IS ADVISED.
OVER THE LAST 100 YEARS, THE WEST HAS BEEN THE SITE
OF A CONTINUING BATTLE BETWEEN NATIVE WILDLIFE SPECIES AND LIVESTOCK.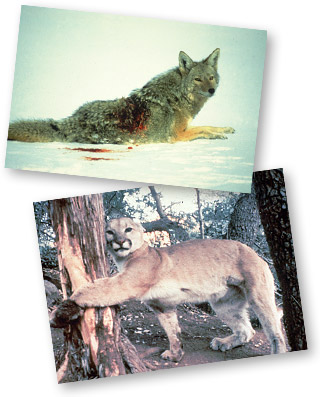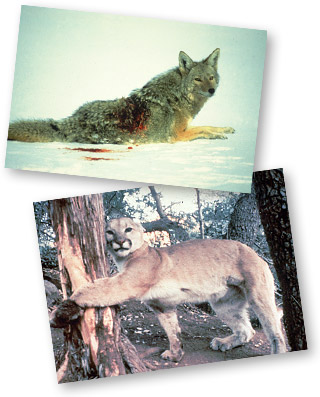 With the annexation of the West to the United States in the 19th Century, millions of non-native cattle and sheep were introduced to the ecosystem. In the drive to make a profit on livestock ranching, herbivorous wildlife are seen as "competitors" to livestock if they eat, forage or browse, while carnivorous wildlife are considered "predators" of livestock if they are large enough to kill a sheep or calf. These predator-livestock wars were inevitable as ranching interests became more powerful at the beginning of the 20th Century.
In 1915, Congress decided to publicly subsidize ranchers by appropriating $125,000 and creating Predatory Animal and Rodent Control (PARC). This tragic act set the stage for what has been over 95 years of destruction of wildlife on public and private lands, using taxpayer funds, to benefit very few in the farming/ranching business.
Hence today's "modern-day" USDA Wildlife Services program (then called Animal Damage Control) had been launched. In 1931, the Animal Damage Control Act was passed by Congress, authorizing the federal government to conduct wildlife damage control activities. The Act states, "The Secretary of Agriculture is hereby authorized to promulgate the best methods of eradication, suppression, or bringing under control on…areas of public domain or private lands, of wolves, lions, coyotes, bobcats, prairie dogs,…injurious to agriculture and animal husbandry, for the protection of stock and other domestic animals…and to conduct campaigns for the destruction or control of such animals."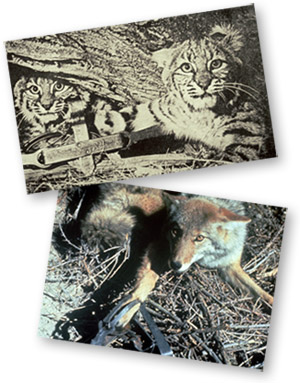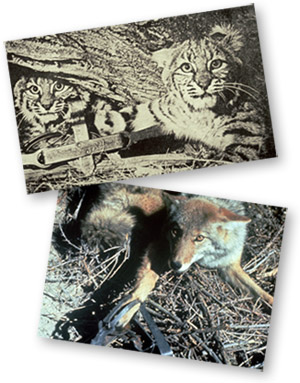 In 1963, a scathing report (the Leopold Report) was published following a review of the A.D.C. program. Despite the stark criticism of A.D.C. and the report's emphasis on shifting from lethal to non-lethal A.D.C. methods, little was done with the findings of this report and today's Wildlife Services differs very little in its attitude toward and impact on native wildlife. The program now resides within the U.S. Department of Agriculture's Animal and Plant Health Inspection Service (APHIS).
Wildlife Services and similar programs have been responsible for the demise of all nineteen of the large mammals in the West, including grizzly bears, black bears, grey, red, swift and kit foxes, grey wolves, mountain lions, bobcats, lynx, jaguars, moose, elk, pronghorns, bighorn sheep, mule deer, whitetail deer, bison and coyotes. Many of the small mammal populations have also been decimated, particularly prairie dogs and the black-footed ferret.
Native plant life also suffers because of overgrazing by non-native livestock species. In what was once an immense and diverse natural wilderness with native wildlife numbering in the several millions, the West is now an overmanaged, arid "wasteland", virtually devoid of the wildlife and vegetation which made the West such a rich and diverse ecosystem.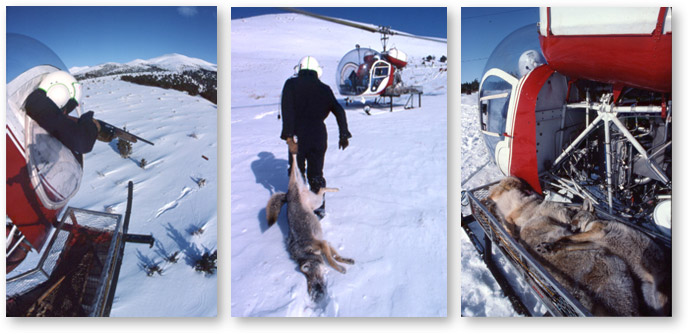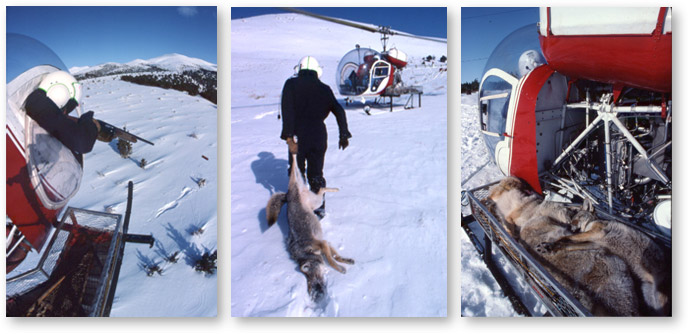 How Animals Are Killed in New Mexico
*Statistics taken from data provided by New Mexico Wildlife Services, 2010
| KILLS | METHOD |
| --- | --- |
| 8,515 | Shooting |
| 5,485 | DRC-1339 (starlicide, a poison) |
| 2,086 | Aerial Hunting (shooting animals from a helicopter or airplane) |
| 1,290 | M44 (a device which when triggered releases sodium cyanide into the mouth of an animal) |
| 1,107 | Neck Snares (wire loops strategically set to tighten around an animal's body) |
| 879 | Decoy Traps |
| 745 | Cage Traps |
| 545 | Leghold Traps (traps in which animals are immobilized and die of exposure, starvation, etc.) |
| 33 | Spotlight Shooting (using a spotlight at night to locate animals, and then shooting them)  |
| 25 | Handcaught |
| 25 | Drive/Corral Traps |
| 7 | Kill Traps (conibear body-grip traps placed underwater to capture and drown the animal) |
| 7 | Gas Cartridges |
| 4 | A/C Tablets |
| 4 | Snare Traps |
| 1 | Catch Pole |
| 1 | Gopher Traps |
| 1 | Culvert Traps |

Total New Mexico Animals Killed: 20,751
How Animals Are Killed in New Mexico
*Statistics taken from data provided by New Mexico Wildlife Services, 2010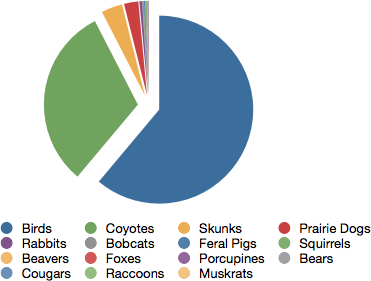 | TARGET ANIMALS | KILLS |
| --- | --- |
| Birds | 13,264 |
| Coyotes | 5,770 |
| Skunks | 617 |
| Prairie dogs | 382 |
| Rabbits/hares | 259 |
| Squirrels | 95 |
| Feral pigs | 78 |
| Bobcats | 62 |
| Beavers | 20 |
| Porcupines | 7 |
| Cougars | 6 |
| Bears | 4 |
| Foxes | 1 |
| Snakes | 1 |
| Gophers | 1 |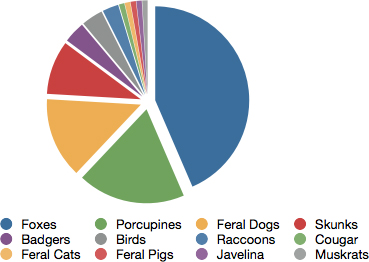 | NON-TARGET ANIMALS | KILLS |
| --- | --- |
| Foxes | 70 |
| Badgers | 30 |
| Skunks | 27 |
| Porcupines | 25 |
| Dogs (domestic/feral) | 8 |
| Rabbits/hares | 7 |
| Javelina | 5 |
| Mule deer | 5 |
| Raccoons | 3 |
| Birds | 1 |
| Cougars | 1 |
Cost to You
Environmental Costs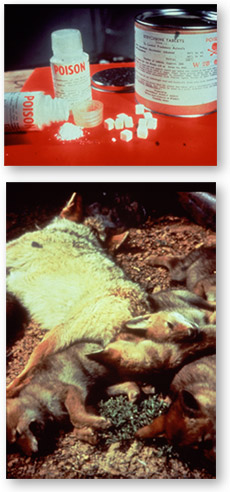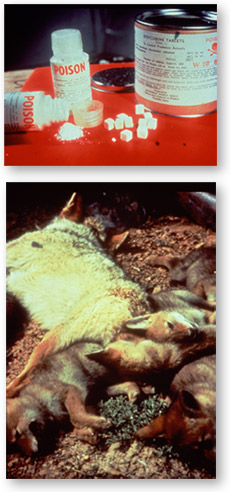 Can anyone guess what is the extent of the damage being done to our soil, our water, and eventually ourselves because of what amounts to the indiscriminate use of massive amounts of poisons in the wild? The A.D.C. Draft Environmental Impact Statement (EIS) published by U.S.D.A. in July 1990 states that "toxicants are generally not species-specific, and their use may be hazardous unless used with care by knowledgeable personnel." Separate audits of New Mexico Wildlife Services by the USDA/Office of Inspector General, conducted in 1996 and 2004 (available here), found that "adequate management control over hazardous pesticides and controlled drugs had not been instituted" and that "these materials were neither properly accounted for, nor stored in a secure manner". Consider that, in 2001 alone, the following amounts of pesticides were distributed by but not properly supervised by New Mexico Wildlife Services:
214,450 fumitoxin (aluminum phosphide) fumigant tablets (lethal dosage in humans: 0.017 oz)
3,048 gas cartridges
1,579 pounds of strychnine (lethal dosage in humans: 0.002 – 0.003 oz)
638 pounds of zinc phosphide (lethal dosage in humans: 1.7 oz)
Costs to the Taxpayer
In addition to the cost of losing our valuable wildlife and the damage to our fragile ecosystems, Wildlife Services represents a tremendous burden to the taxpayers of our state. Over $3.1 million was spent to slaughter wildlife in 2009 in New Mexico, with 45% of the funding coming straight from New Mexico taxpayers and the rest from federal tax money. $2.8 million (or 91%) of this expenditure was specifically for the benefit of the agricultural industry*. USDA's own data, however, calls into question the necessity of these wildlife kills—a 2010 USDA report found that only 0.23% (one quarter of one percent) of cattle across the nation are actually lost to native predators and dogs. Consider the magnitude of these yearly expenditures and that they represent a taxpayer subsidy to private business interests at the expense of native wildlife. Surely the state and federal government can find more deserving places to spend this money. *Source: USDA – APHIS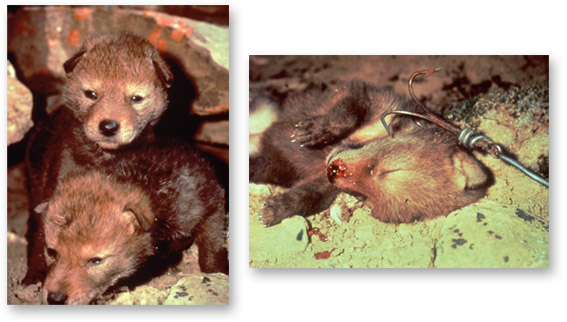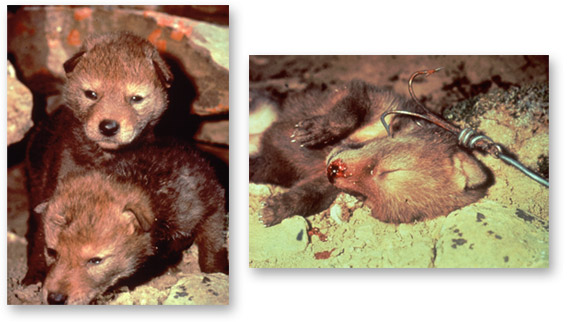 Alternatives to Lethal A.D.C. Methods
There are many non-lethal methods for solving problems which exist between agriculture, livestock and the species who belong in the wild. For carnivorous species, guard animals (dogs, donkeys, llamas), full-time herds "men", taste aversives, proper fencing, other fencing techniques such as fladry (an ancient method of hanging fabric to visually deter predators), better husbandry (shed lambing, etc.), and removal of livestock from high loss areas are all viable ways to protect livestock. But most importantly, public funds should not be used to kill wildlife to protect private interests. No business venture is risk-free.