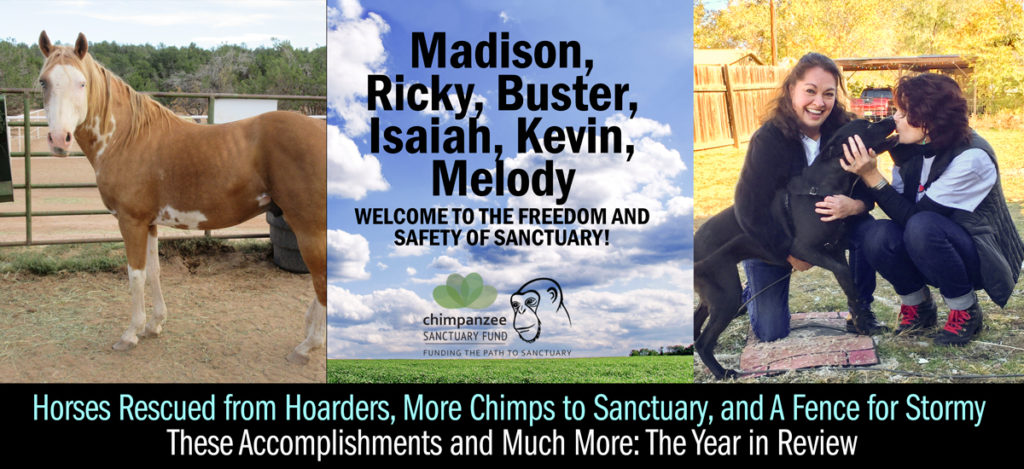 A major win for New Mexico chimps
Nikki, Melody, Buster, Kevin…these are the names of four of the 14 former research chimps our Chimpanzee Sanctuary Fund helped transfer to Chimp Haven this fall. These individuals, aged 19 to 37, can now live out their years in peace and dignity. As of October, only 101 chimps remained at the Alamogordo Primate Facility, with more transfers scheduled. Visit our Facebook page to see the latest photos and an amazing video of the chimps enjoying their lives at last. The New York Times covered the story in November.
Getting dogs off chains and tethers
The joy of an untethered dog is a heartwarming sight. This is Stormy (in photo above) excited about her new enclosure, built by APNM's Humane Communities: Santa Fe program. This fencing initiative is designed to improve the lives of dogs who are tethered outside all year round because their families need help building a suitable enclosure.
Last January, the Santa Fe Board of County Commissioners unanimously approved amendments to the animal control ordinance, including strict guidelines on tethering any animal, except in a few specific circumstances. The tethering ban received overwhelming public support, and a citizen advisory committee is working on the details of implementing the amendments.
Horses rescued from hoarding hell
Last summer, we learned of a horrific animal hoarding case in southern New Mexico involving 14 long-suffering horses. The animals had horribly overgrown hooves, and some may have lived in the cramped, filthy conditions their entire lives before three horse shelters boldly stepped forward to rescue them.
APNM's Equine Protection Fund gave over $7,000 to help with the enormous expense of caring for and rehabilitating these deserving individuals. Libby, Lina, Santiago, and many others may have faced the sale barn and a terrifying, painful death by slaughter without this lifesaving support.
This year the Equine Protection Fund reached the milestone of 900 equines helped since the program began in 2010. It's now up to 936 animals. Your gift will help us reach 1,000 in 2018!
Circus cruelty not welcome here
Last summer, an undercover video captured heartbreaking footage of two circus elephants backstage at the Shrine Circus' Albuquerque tour stop. The elephants were compulsively swaying back and forth, a well-known sign of acute distress. After he saw the video, APNM's Cruelty Case Manager worked with the videographer to submit a complaint to the USDA for suspected violations of the Animal Welfare Act.
The Cruelty Case Manager also urged venues, local government representatives, and the New Mexico Department of Health to prohibit Garden Brothers circus from appearing at their scheduled stops. The company has a long record of animal abuse allegations. Last July, Rio Rancho barred the circus from performing with their elephants because they failed to obtain a permit.
More good news: With support from APNM staff testimony, in September Santa Fe joined New York, San Francisco, and other cities in banning wild animal acts from appearing in town.
Bringing free spay/neuter to communities
New Mexico shelters euthanize almost half of the animals they receive — nearly 70,000 cats and dogs — due to overpopulation and a lack of adoptive homes. Fortunately, Humane Communities: Las Vegas helped bring free spay/neuter and vaccination clinics to the community. The mobile clinic vehicles were brought directly to the AWC Pet Center by Soul Dog Rescue and PAWS New Mexico. AWC booked every available time slot in a matter of days so that households in need with companion animals could access vital veterinary medical care, while helping to curb the companion animal overpopulation in our state.
Reuniting families and animals
When a domestic violence victim had to flee New Mexico and relocate to Pennsylvania, she feared she would never see her beloved cats again. But, thanks to a new partnership between APNM's CARE program and Dog Is My Copilot, which transports animals around the country to maximize adoption, the woman and her feline friends were joyfully reunited.
This year, the CARE program has assisted 89 animals and 56 callers through the helpline. In recognition of the hundreds of families helped since the program began in 1999, CARE was awarded its first federal grant this year – as well as its first donations from children!
A generous brother and sister, Leo, age 9, and Penny, age 7 both asked for birthday dollars, rather than presents, and donated them to CARE. Heartfelt thanks to this compassionate family!
Building foundations to keep animals safe
Throughout 2017, APNM provided advice and vital support to New Mexico's animal shelters, humane law enforcement, rescue and spay/neuter organizations, and the public regarding companion animals, assistance programs, funding resources, best practices, community involvement, and more.
We secured two generous grants from the Dennis Friends Foundation: $4,500 for the City of Santa Rosa to hold a two-day clinic in January 2018 offering free spay/neuter, free vaccinations, and microchips, and $11,353 for the Valencia County Animal Shelter to build an outdoor meet and greet area for dogs and potential adopters.
We continued our collaboration with Truth or Consequences and Sierra County through meetings with community members, the animal shelter manager, and representatives from the T or C Police Department, to facilitate supportive relationships and discuss operations and management, as the city prepares to open its new shelter.
And we secured a generous $10,000 grant from the Bonner Family Foundation to provide 40-hour training academy scholarships for approximately 17 New Mexico animal care and control officers in 2018.
Teaching children compassion for animals
This year, APNM provided The Animal Connection, a popular humane education curriculum, to public schools and tribal communities across New Mexico. This tireless team of registered therapy dogs and humane educators also appeared at the 2017 New Mexico State Fair. Animal safety presentations were offered twice daily to school groups, as well as "Read to the Dogs" sessions for autistic children visiting the Sensory Zone.
In 2017, APNM also secured a grant for a northern New Mexico pueblo to purchase flea and tick medication, and consulted with tribal elders about spay/neuter, vaccination, and loose dog issues in their community.
Cougar lawsuits moving forward
Just one day after the start of the 2017-2018 cougar trapping season, we received great news. A federal judge rejected the New Mexico Game Commission's second request to dismiss our lawsuit challenging the 2016 decision of the state Department of Game and Fish to open a cougar trapping season on public lands — for the first time in almost 50 years. Our lawsuit asserts that the Cougar Rule violates the Endangered Species Act.
The legal challenge will now proceed, with the Court examining whether the Cougar Rule poses an unacceptable risk to the survival of endangered Mexican wolves. Our lawsuit in state court is also still pending.