APNM's Decades of Work for Chimpanzees Featured by The New York Times, Albuquerque Journal, KOAT, and other news outlets
The New York Times' front page story "Unlikely Partners, Freeing Chimps From the Lab" credits Animal Protection New Mexico's work in helping to end the federal government's use of chimpanzees in invasive research, highlighting the importance of sustained local action and collaboration:
"There's a lot of problems in the world, this is a problem we can all solve," said Laura Bonar, the program director of Animal Protection New Mexico, where the most recent chapter in the campaign for chimp protection began. "The very least that the chimps deserve is for us to work together to see them have some peace and dignity."
Dr. Jane Goodall describes why this "very, very important milestone" is important to the chimpanzees and increases all compassion for animals:
"What the chimpanzee has done is to prove there is no hard and fast line dividing us from the rest of the animal kingdom," Dr. Goodall said. "Once you admit that we're not the only beings with personalities, minds, capable of thought and emotions, it raises ethical issues about the ways we use and abuse so many other sentient, sapient beings – animal beings – every day."
Ending abuse and beginning to fix broken systems – those which profit from exploitation and cause trauma and suffering for innocent individuals – is important for all of us. Read more coverage of our work in The New York Times:
2020: "Aging and Ailing Lab Chimps Are Still at Center of Fight for Sanctuary"
US Senator Tom Udall of New Mexico told The New York Times:
"N.I.H. has dropped the ball." An advocate of the chimps' well-being for more than 10 years, the senator added, "I don't have any faith that the N.I.H. is using taxpayer resources wisely for the humane treatment of these chimps."
2018: "How to Decide Whether Ailing Chimps Get Moved to a Sanctuary"
2017: "Lab Chimps Are Moving to Sanctuaries – Slowly"
2010: "For Aging New Mexico Chimps, Retirement or Medical Research?"
The Albuquerque Journal  has covered the plight of chimpanzees who survived invasive testing for years, and recognized APNM's role in making change:
2020: "Chimps Still in Need of Safe Haven"
2019: "Senators Want Chimps Moved to Sanctuary"
2013: "Chimps Get Early Holiday"
More coverage of APNM's work to secure sanctuary for chimpanzees:
"Chimp Haven to Receive Grant to Support NM Chimps"
"37 Chimpanzees Remain at Alamogordo Primate Facility. Is it Safe to Move Them to a Sanctuary?"
"Two Additional Chimps Die at Alamogordo Testing Site"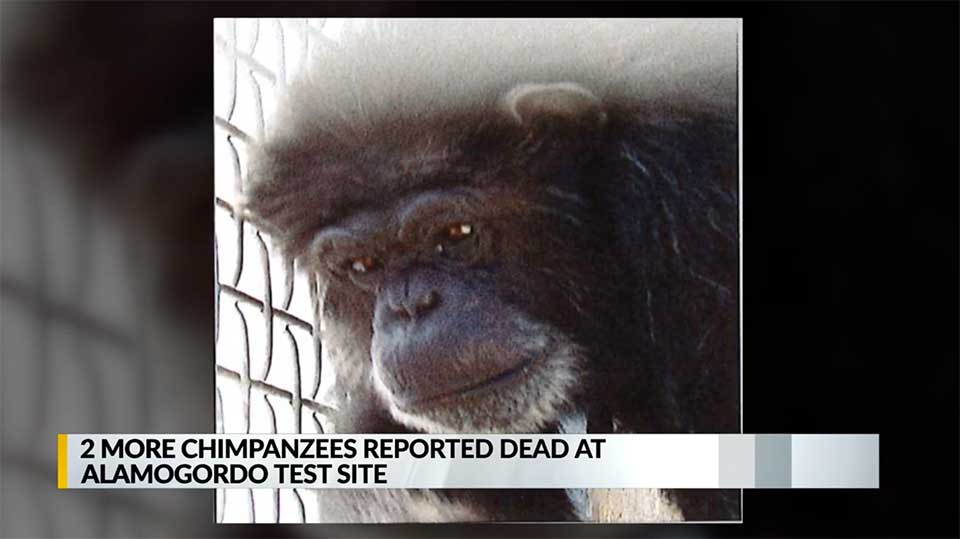 KOAT anchor/reporter Royale Dá has covered the history of New Mexico's chimpanzees with compassion and respect, watch some of her stories now:
"Space Chimps Tested On"
"Activists Say Future of Remaining 50 Chimps is Uncertain"
Learn more about ending the exploitation of chimpanzees from Scientific American, The Washington Post, Houston Press, and KUNM.
Read back issues of our member magazine Making Tracks and download our Lethal Kinship report for more history on this work.