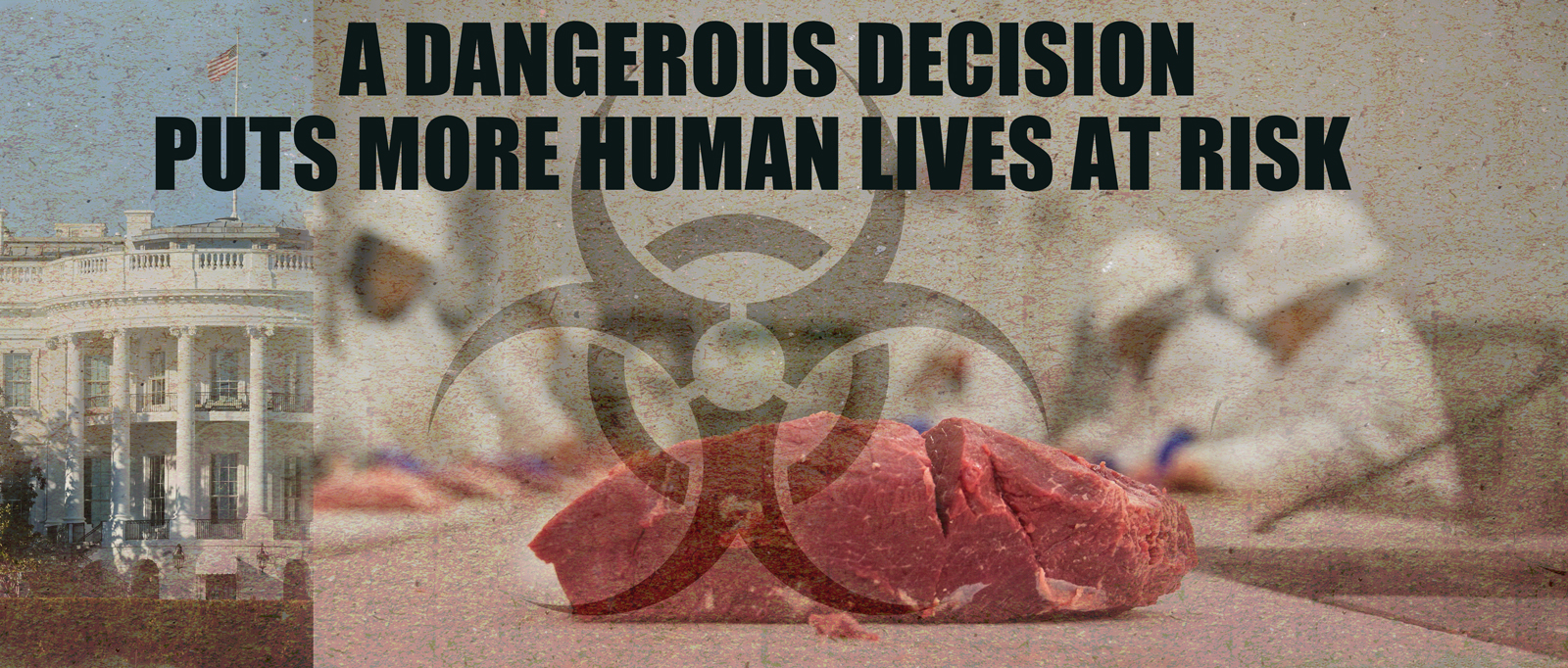 The president's executive order requiring meat packing plants to stay open amidst the current pandemic is unnecessary and dangerous on many levels. Not only does this order greatly increase plant workers' risk of contracting the novel coronavirus, making their jobs even more hazardous than they already were before the pandemic, but also this order further endangers public health by promoting the spread of the coronavirus for the sake of providing Americans with animal-based protein. There is no time like the present for Americans to switch to eating plant-based protein, and begin enjoying the many varieties of protein from sources that don't contribute to animal suffering, and don't require people to work in dangerous conditions in slaughterhouses and meat packing plants.
Working in a meat packing facility was the most dangerous job in America before the current pandemic; the novel coronavirus adds to the danger. The working conditions in meat packing plants encourage the spread of viruses as workers are placed very close together and work with hazardous materials (including hazardous chemicals, biological agents, and heavy machinery) while under high levels of stress. Over 20 meat packing plants have been shut down during this pandemic due to outbreaks of COVID-19, and at this writing nearly 600 workers in a single plant (Smithfield pork processing in South Dakota) have contracted the virus. It is difficult to imagine that companies will provide adequate protection for workers from the virus when they have failed many times over to provide basic protections from their usual work hazards. Furthermore, meat packing plants are primarily staffed by people of color and undocumented individuals, which makes it difficult for them to advocate for workers' rights and puts their health at even greater risk. Communities of color have been shown to have higher rates of chronic health conditions because of lack of access to healthy living conditions and health care, both exacerbating COVID-19.
In addition to endangering the lives of thousands of people who work at meat packing plants, forcing meat packing plants to remain open puts us all at greater risk as this will undermine social distancing and other public health measures that are in place to slow the spread of the virus. It is not possible for workers to practice social distancing in meat packing plants without significantly decreasing their usual productivity; meanwhile workers who contract the virus will likely spread it to their families and communities, increasing risk of infection for many others. Furthermore, the meat industry in this country is a public health concern in and of itself as it encourages the spread of zoonotic diseases and breeds antibiotic resistant bacteria.
The executive order states that "it is important that processors of beef, pork, and poultry… in the food supply chain continue operating… to ensure a continued supply of protein for Americans." While it is necessary for Americans to have a continued supply of protein, meat is not an essential part of that equation. There are countless non-meat protein sources in the food chain that are available to Americans, including all varieties of beans, nuts, seeds, grains, and vegetables. In addition to the proteins that occur naturally in a wide variety of plant-based foods, there is also an abundance of plant-based protein products available on the market, including faux meats (from companies like Impossible Foods, Beyond Meat, and Gardein), soy products (such as tofu, tempeh, and soy curls), seitan (wheat-based) and texturized vegetable protein.
The most impactful action you can take to contest this executive order is to follow a plant-based diet and boycott the harmful meat industry. You may also choose to write a message to the white house voicing your concern. It is not worth risking so many lives just so that Americans can have the non-essential and problematic luxury of meat on their plates.
For recipes, dining guides, and more resources on plant-based eating, visit our website at apnm.org/plantbased