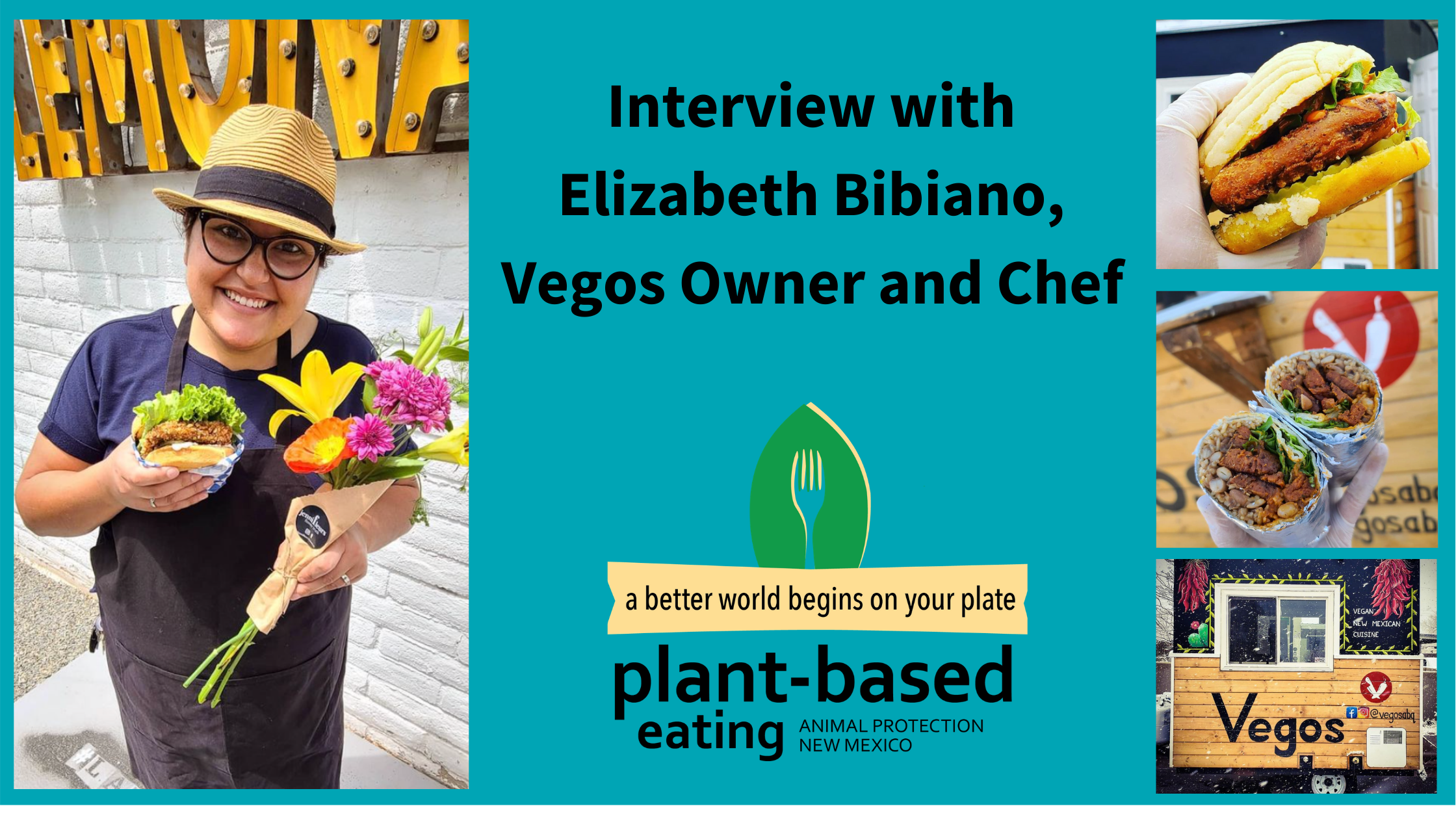 We spoke with Elizabeth Bibiano, owner of Vegos, and were delighted by her unique story and the inspiration for Vegos' delicious plant-based New Mexican and Chicken meals.
How long have you been in the restaurant business?
My first job at 16 was at Pizza Hut, so technically I've been working in the restaurant business for a long time. I attended culinary school in 2018 and completed an internship at Street Food Institute in fall 2018. Vegos started tiny, debuting May 3rd, 2019, at Railyards as a table and booth. Our food trailer [lovingly named Rosita] debuted in May 2020, and we did some pop-ups throughout pandemic.
The shut-down happened right before St Patrick's day weekend. We had 5 pop-ups scheduled that week—it was supposed to be our best-selling week, and then everything got cancelled and our commercial kitchen got closed down. We didn't know what we were going to do! Once we got Rosita we had to figure out where could park, and lot of other logistics; luckily for us, the community really came through and supported.
How long have you been vegan, and what inspired you to go vegan?
I have been vegan for 2 years and was vegetarian for 3 years before that. During my time as a vegetarian, I was vegan at home, and vegetarian when out socializing. I found it hard to give up cheese when out at restaurants. I was so addicted to cheese. My transition [to veganism] was tough and that's what spurred the idea for Vegos—I thought, if I'm having this struggle, surely many others are having this struggle as well.
It's interesting because I was the "anti-vegan" for a while; I was the person that asked vegans "Where do you get your protein?" When my partner and I were living in Alaska, meat was expensive, the nearest grocery store was far, and we were living in a camper; out of necessity we challenged ourselves to go without meat for a month. We felt so much better—one month turned into multiple months, then to a year, and on and on. This experience spurred interest in learning about if we need meat to survive, which sparked lots of different research. Now it's engrained in me
What inspired you to start Vegos?
My culinary school career provided me with tons of inspiration. I knew I wanted to start a food business but wasn't sure what type or focus. I loved the challenge of creating vegan foods—steak has been a mainstay of dining for many years, while tofu and seitan more untapped territory. I kept seeing vegan options for American style foods, but not as many New Mexican vegan options. People don't realize that lard, chicken stock, etc., might be in burritos. I was interested in exploring tamales, enchiladas, the whole burrito realm…The goal of selling at the Railyards was to test this concept of vegan New Mexican options.
I was vegetarian going into culinary school. When I would mention wanting to start a food business people would say, "You're going to start a vegan food business, in New Mexico?" Good luck with that."
What is your most popular menu item?

It depends on the season. Our tamales are a huge hit and favorite during tamales season. Although, our Nobody Calls Me Chicken Sando is so popular we created an entire spin-off menu and bought a second truck based on that sandwich.
What was the inspiration for your Nobody Calls Me Chicken Sando?
When Vuture came into town doing vegan chicken sandwiches (they travel the country selling these) I tried them and felt like it was missing something…then I went on a chicken craze. Since our menu was all New Mexican food at that point, I threw it on a concha bun to "New Mexicanize" it and add it to the menu. The idea for the concha bun came from a stadium that sells a burger on a donut bun.
Are all of your customers vegans?
It might be a good 50/50. We have our die-hards (like you guys), customers we talk with and know they're vegan…they sometimes recruit people. We get a lot of new customers by word of mouth. It can be hard to find options that are as satisfying without cheese or other dairy for folks who are dairy intolerant—we get tons of customers like that. Or the "well my doctor told me I had to cut out red meat, so…" Bottom line is, I don't only make food for vegans.
What advice would you give other restaurant owners who are considering adding vegan options to their menu?
Totally do it! Now is a perfect time, because there is so much interest in it; the risk is super low. Restaurants that are not familiar with vegan cooking might look at it as intimidating or not worth> I think they would be surprised to know they can still create the dishes they're known for, veganizing food using ingredients they already have. I would appeal to the chef in them, take out the intimidation factor and normalize it. Vegan food can be as easy to make—changing perceptions is the first step. If you have questions let me know!
Do you have any exciting plans for the future?
We're always working on something…Our current adventure is to open a brick and mortar. We have our own kitchen and space, licensed as a commissary kitchen. Our goal is to cook and prep everything in kitchen and serve it in same space. We are in the process of launching crowd funding to ask for help and see if community wants a dine in space for Vegos. No need to worry, our second food truck is not going anywhere—we are going to keep it and continue expanding our Nobody Calls Me Chicken menu. We have lots of exciting, hopeful changes for the future!
Is there anything else you want to share?
We are super fortunate to have started and own a vegan business during a time when veganism is becoming mainstream—it's not the stereotype anymore. There are tons of new products on the shelves, which is great, but the word "plant-based" can also be a marketing and sales ploy. We need to be more diligent about reading labels, knowing plant-based is not necessarily vegan. We are also always researching how foods are made. [The vegan movement] is going in the right direction yet our job is not done. We need to keep educating people about what veganism is. Being a fellow vegan, that instills trust in customers. At the heart of it, it's still about the animals. We want people to think about where their food comes from and enjoy good food knowing what they eat doesn't have to include animal products.

For menus, locations, hours, or to place an order, visit https://vegosabq.com