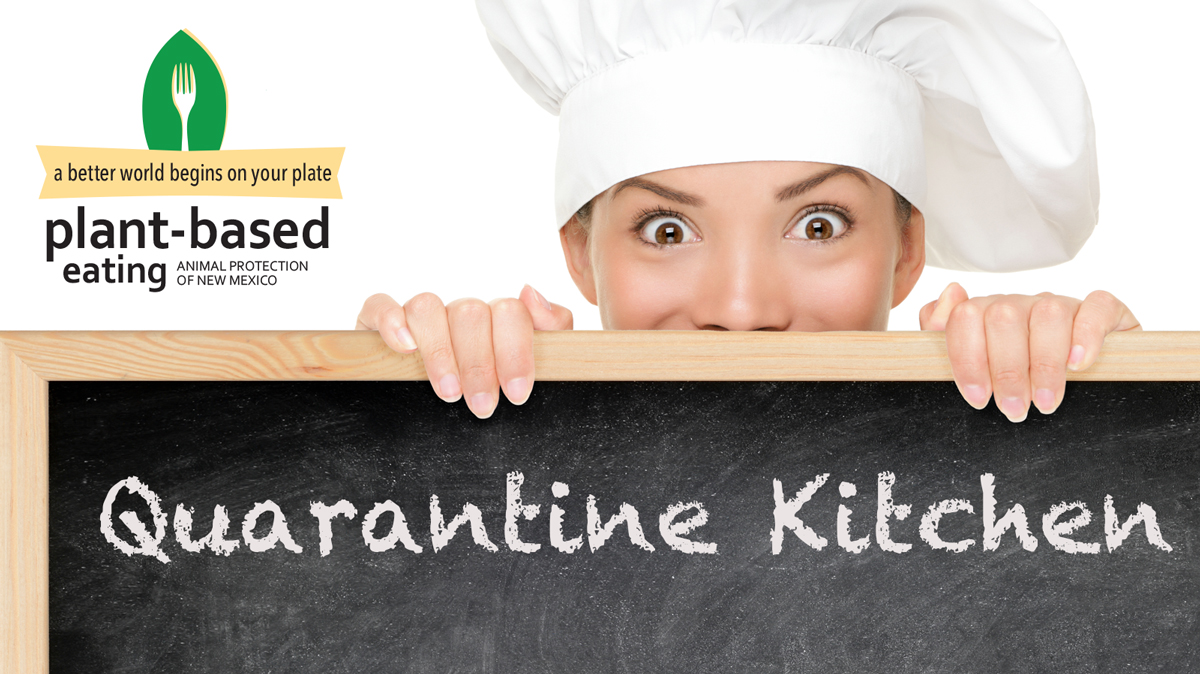 If you're still eating meat and dairy and finding stores sold out of those items, not to worry—healthy, delicious, plant-based alternatives abound!
With the constant uncertainty about which foods may be available at the store, coupled with the extra time you are spending at home, this can be the perfect time to learn how to cook new foods and experiment with plant-based ingredients and products. Don't be surprised when you find yourself craving these delicious alternatives to animal-based foods. They deliver all the taste…without the cruelty.

Meat Alternatives
Faux Meats: There are so many plant-based protein products on the market nowadays, it has never been easier to recreate meat-based dishes and meals with plant-based alternatives. Try beefless crumbles in place of ground beef, Beyond or Impossible burger patties, chik'n meal starters for fajitas or stews, or plant-based nuggets from Boca or Morningstar that are sure to please even the pickiest eaters.
Tofu: Many meals that typically use meat can be recreated using tofu. Tofu has a subtle flavor on its own, but when cooked in a flavorful recipe, will absorb the flavors and produce delicious results.  For a tougher ("meatier") texture, remove as much liquid as possible from the tofu before using it in your recipe. You can do this by freezing the tofu and then defrosting it when you're ready to use it (draining all the liquid when it melts). Or, you can use a tofu press which drains the liquid through compression (the longer you compress it, the more liquid is drained).  Try making homemade tofu bacon, bbq tofu sandwiches, or Polynesian fried tofu. You can also marinade tofu in soy sauce and seasonings of your choice, cut into ½" to 1" slabs, and bake in the oven on a baking sheet to give it a unique texture.
Jackfruit: Have you tried jackfruit yet? A fruit related to figs, it grows in tropical areas of Southeast Asia, Brazil, and Africa. Although it is a fruit, it has a "meaty" texture. When jackfruit is shredded, it has a consistency remarkably similar to pulled pork. Try making bbq jackfruit sliders or substituting jackfruit for pork in tamales.

Egg Alternatives
While many stores are not able to keep eggs on the shelf, we are fortunate that plant-based chefs and foodies have worked their magic and invented some crafty plant-based egg alternatives.
Tofu: If you are craving scrambled eggs, tofu scramble is a great alternative that looks, smells, and tastes like scrambled eggs (without the cholesterol or saturated fat). Tofu can also be used to create egg salad for sandwiches, and can even be used as part of this incredible vegan fried egg recipe.
Ground Flax: Baking without eggs can be tricky for those who have never dabbled in plant-based baking before. Flax seeds to the rescue. Not only is this seed high in Omega-3 fats and fiber, but ground flax can be used as a binder instead of eggs in recipes for bread, pancakes, and other baked goods.
Aquafaba: The water from cooked garbanzo beans (what you drain off when you open a can of garbanzo beans), also known as aquafaba, can be a magical ingredient that acts as a replacement for eggs in many recipes.

Milk Alternatives
Plant-based "milks" are all the rage right now, and there's never been a bigger selection. Many can be found in the refrigerated section but there are also shelf-stable varieties. Some can even be made at home using raw nuts.
Soy and Oat Milk: Among the creamiest and more popular plant-based milks are soy and oat. They can be found at virtually any grocery store and are often fortified with calcium and other vitamins. Try them in cereals, coffee, tea, and just as a beverage. Unsweetened soy milk can also be a great replacement for dairy milk in recipes.
Nut Milks: Plant-based milks can be made from a wide variety of nuts including almonds, cashews, and walnuts. These plant milks can be found in just about any grocery store, and can also be made at home fairly simply by using raw unsalted nuts, soaking them overnight, then blending them with water.
Coconut Milk: Coconut milk, in the full fat variety, is the creamiest of plant milks and is a great addition to curries and creamy soups. Pick up full fat coconut milk in the canned section of the store. Light coconut milk contains less fat and works wonderfully in smoothies.
Plant-Based Yogurts: In addition to all of the plant-based milk alternatives, there are also a wide variety of plant-based yogurts. Companies like So Delicious and Silk offer plant-based yogurts made from coconut milk, soy milk, almond milk, and oat milk. Similar to dairy yogurts, plant-based yogurts contain healthy bacteria cultures which benefit gut health, but they do not carry the same health concerns about dairy.

More Resources
Visit our website at apnm.org/plantbased for more recipes and updates on online classes to add ideas and inspiration for your quarantine kitchen. You can also sign up for our e-alerts to make sure you don't miss a single update.