6/30/20 FOR IMMEDIATE RELEASE
Press Contact: Alan Edmonds, APNM Cruelty Case Manager: (505) 506-4000 / alan@apnm.org
Mora, NM—Animal Protection New Mexico is offering a reward of up to $4,500 in a disturbing case of Extreme Animal Cruelty involving two horses shot in Mora County.
Between June 13 and June 14, 2020, two horses were shot in the Monte Aplanado area of Mora County, New Mexico. Joseph, an Appaloosa gelding, died in the immediate area of the shooting. Stormy Patty, a Red Roan mare, survived a nonlethal wound and is being treated. The horses were running in an area known as Laguna Alta, as they did regularly.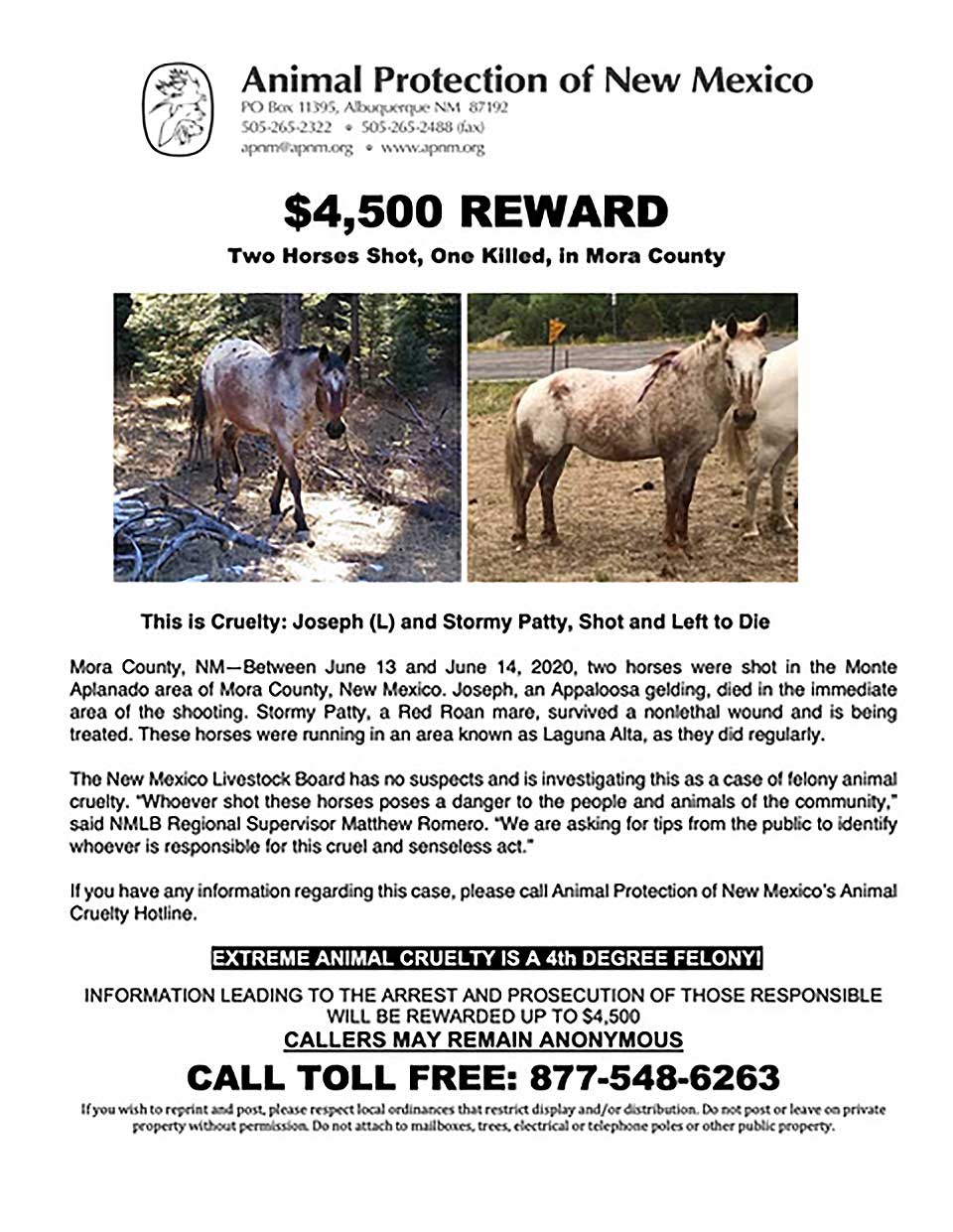 The New Mexico Livestock Board has no suspects and is investigating this as a case of felony animal cruelty. "Whoever shot these horses poses a danger to the people and animals of the community," said NMLB Regional Supervisor Matthew Romero. "We are asking for tips from the public to identify whoever is responsible for this cruel and senseless act."
Animal Protection New Mexico Cruelty Case Manager Alan Edmonds noted, "This egregious act constitutes Extreme Animal Cruelty under the NM State Statute. We hope this reward offer will result in the arrest and prosecution of whoever is responsible for shooting these gentle, trusting creatures."
Information leading to the arrest and prosecution of those responsible will be rewarded up to $4,500. If you have any information regarding this case, please call Animal Protection New Mexico's Animal Cruelty Hotline: 877-548-6263. Callers may remain anonymous.