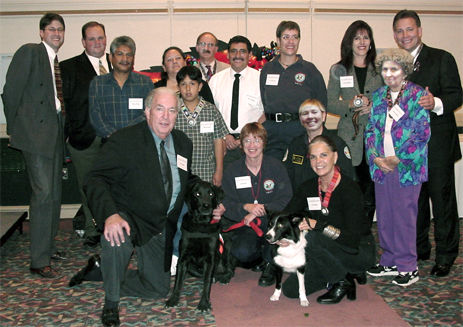 Advocacy Award: Representative Ray Begaye, Shiprock, for sponsorship of legislation protecting New Mexico's reptiles and amphibians.
Animal Award: Dusty (Albuquerque), Guinness (Los Alamos), Ronin (Chandler, AZ), and Sage (Carlsbad) – canine members, New Mexico Task Force One's Urban Search and Rescue team, for service to their country in the wake of the terrorist attack on the Pentagon.
Board of Directors' Award: Florence Barclay, Albuquerque, for founding APNM's endowment.
Direct Animal Services Award: Northern New Mexico Animal Protection Society (Española Animal Shelter), for alleviating the companion animal over-population problem, animal abuse and neglect in northern New Mexico.
Executive Director's Award: District Attorney Randall Harris, Clovis, for leadership in campaigns to ban horse tripping, make animal cruelty a felony offense, and outlawing animal fighting statewide.
Humane Education Award: Ali MacGraw, Tesuque, for articulating animal issues and supporting efforts to end abuse.
Media Award: KOAT-TV Target Seven (Albuquerque) investigative team, including: Larry Barker, Dave Ruff, and Charles Wolmann, for its two-part undercover report on cockfighting in New Mexico.
Youth Award: Highland Elementary School, Las Cruces, for fundraising to provide veterinary care for Sam, a wounded German shepherd dog.