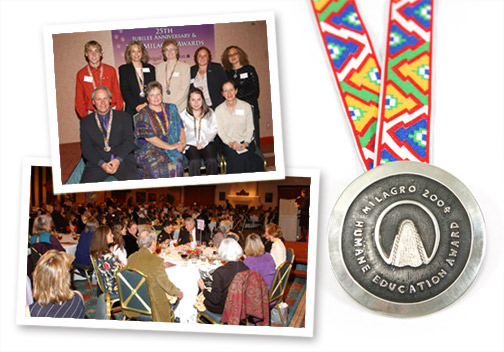 Animal Champions Honored at 2004 Milagro Awards
Nine individuals and organizations from New Mexico were honored for their outstanding contributions to the lives of animals on Saturday, October 23rd, 2004.  Animal Protection New Mexico (APNM) bestowed its 2004 Milagro Awards at a dinner and ceremony at the Eldorado Hotel in Santa Fe that evening.  The gala event, which also celebrated APNM's 25th Jubilee anniversary, included guest speaker Ingrid Newkirk, President of People for the Ethical Treatment of Animals.
APNM's Milagro Awards annually recognize individual and collaborative humanitarian acts on behalf of animals.  The 2004 Milagro Award recipients were:
Advocacy Award: (promoting the compassionate treatment of animals): Albuquerque Mayor Martin Chavez, for his extraordinary efforts on behalf of prairie dogs, antifreeze safety for animals and children and highlighting issues of animal cruelty with the public.
Animal Award: (exceptional animal courage and/or intelligence): Scooby, Bernalillo, whose life and death were captured in the media this past year, and whose legacy is helping to ensure antifreeze safety for animals and children.
Board of Directors' Award: (lifelong commitment to animal rights): Eugene V. and Clare E. Thaw, Santa Fe, for their support of a broad range of APNM's animal advocacy programs spanning more than a decade.
Direct Animal Services Award: (efforts that directly improve the lives of animals): the late Jan Bandler, Cerrillos, for her tenacity in creating a horse rescue facility and her dedication to educating policy-makers about the need for effective investigation of animal cruelty cases across New Mexico.
Executive Director's Award: (outstanding support of APNM's mission and program): Attorney General Patricia Madrid, Santa Fe, for her active role in providing stronger legal protections for animals and her dedication of resources to ensure that chimpanzee endowments were not mismanaged by the Coulston Foundation.
Humane Education Award: (innovative civic education efforts that foster humane ethics): Bomar Equine Rescue and Rehab Center, Belen, for their effective outreach, training and education of the public, law enforcement and other agencies about animal cruelty and natural disaster preparation.
Media Award: (spotlighting animal issues with courage, creativity, integrity): Valencia County News-Bulletin, Belen, for providing media space to animal causes every week for the past several years and consistently including articles that educate the public about important animal issues.
Youth Award: (youth activism, ethics, bravery): William Klepper, Hobbs, for his consistent involvement with the Lea County Humane Society as a volunteer, his activism to find shelter animals good homes and his outreach to the public and neighbors about shelter animals and spay/neuter programs.
APNM is a 25-year old, statewide nonprofit animal advocacy organization.  As a symbol of their achievements, each winner receives a beautiful, paw-imprinted silver medallion designed and fabricated by San Juan Pueblo silversmith Andrew Garcia.
2004 Major Corporate Sponsors: