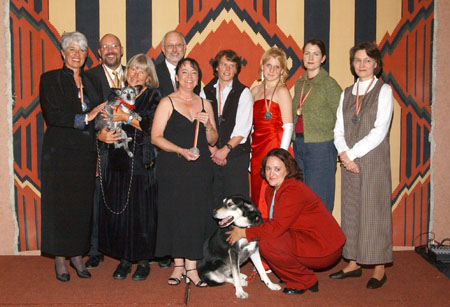 Champions for Animals Honored at the 2005 Milagro Awards
Eleven individuals and organizations and one canine companion from New Mexico were honored for their outstanding contributions to the lives of animals on Saturday, October 15th, 2005. Animal Protection New Mexico (APNM) bestowed its 2005 Milagro Awards at a dinner and ceremony at the Eldorado Hotel in Santa Fe that evening beginning at 5:00 p.m. The gala event included guest speaker Wayne Pacelle, Chief Executive Officer of the Humane Society of the United States.
APNM's Milagro Awards annually recognize individual and collaborative humanitarian acts on behalf of animals. As a symbol of their achievements, each winner received a beautiful, paw-imprinted silver medallion designed and fabricated by San Juan Pueblo silversmith Andrew Garcia.
The 2005 Milagro Award recipients were:
Advocacy Award: (promoting the compassionate treatment of animals): Kim Snitker, Albuquerque, for supporting numerous rescue and adoption programs through volunteer efforts and by utilizing her retail store, the Three Dog Bakery, as a hub for animal advocacy activities and education.
Animal Award: (exceptional animal courage and/or intelligence): Timber, Santa Fe, a formerly chained dog who sustained serious injuries while escaping and helped to educate the public on the dangers and inhumanity of chaining companion animals by telling his story in PETroglyphs magazine and other venues.
Board of Directors' Award: (lifelong commitment to animal rights): Gayla Burton, Albuquerque, for her generous and consistent support of APNM's animal advocacy programs over more than a decade.
Direct Animal Services Award: (efforts that directly improve the lives of animals): Kindred Spirits Animal Sanctuary: Eldercare and Hospice for Dogs, Horses and Poultry, Santa Fe, for providing eldercare and hospice services for hundreds of needy dogs, horses and birds in a four acre sanctuary.
Executive Director's Award: (outstanding support of APNM's mission and program): Twelfth Judicial District Attorney Scot Key, Alamogordo, for filing unprecedented criminal animal cruelty charges against Charles River Laboratories (CRL) in the wake of the death of chimpanzees Rex and Ashley at CRL's Holloman Air Force Base facility.
Humane Education Award: (innovative civic education efforts that foster humane ethics): Doña Ana County Humane Society Kids Camp, Las Cruces, for teaching students responsible companion animal care by highlighting animals' physical and emotional needs.
Lawmaking Advocacy Award: (efforts that led to the passage of animal protection legislation): Senator John Grubesic, Santa Fe and Representative Miguel Garcia, Albuquerque for their tireless work to push the Dangerous Dog bill through the legislature. The bill serves as a tool to proactively prevent dog attacks by creating a formal process for declaring dogs dangerous or potentially dangerous and holding their guardians responsible.
Media Award: (spotlighting animal issues with courage, creativity, integrity): Sandy Nelson, Santa Fe New Mexican, Santa Fe for comprehensively covering animal issues and consistently utilizing her position as a journalist to educate the public about animal welfare concerns.
Spirit of the Mission Award: (bringing about precedent-setting change with a national impact that advances the animal rights movement): Senator Ortiz y Pino, Albuquerque and Representative Kathy McCoy, Cedar Crest for passionately supporting "Scooby's Law," which protects companion animals, wildlife and children from accidental poisoning by requiring that antifreeze contain a bittering agent. Additionally, Senator Ortiz y Pino and Representative McCoy are encouraging the passage of the federal version of the legislation in 2005.
Youth Award: (youth activism, ethics, bravery): Alysha Lenderman, Edgewood: for volunteering hundreds of hours to find homeless companion animals loving guardians, proactively organizing a grassroots fundraising campaign that assists special needs animals at the local shelter and creating a Community Assistance Program that funds low cost spay and neutering services in the town of Edgewood and Santa Fe and Torrance Counties.
2005 Premier Corporate Sponsors include Berman-Davidson, French and French, Sotheby's International Realty, and DePonte Investments, Inc.; Associate Corporate Sponsors include Demand Printing Solutions, Crosswinds Weekly, The Santa Fe Reporter, In Defense of Animals and the Humane Society of the United States.