10 Healthy Meals Our Family Loves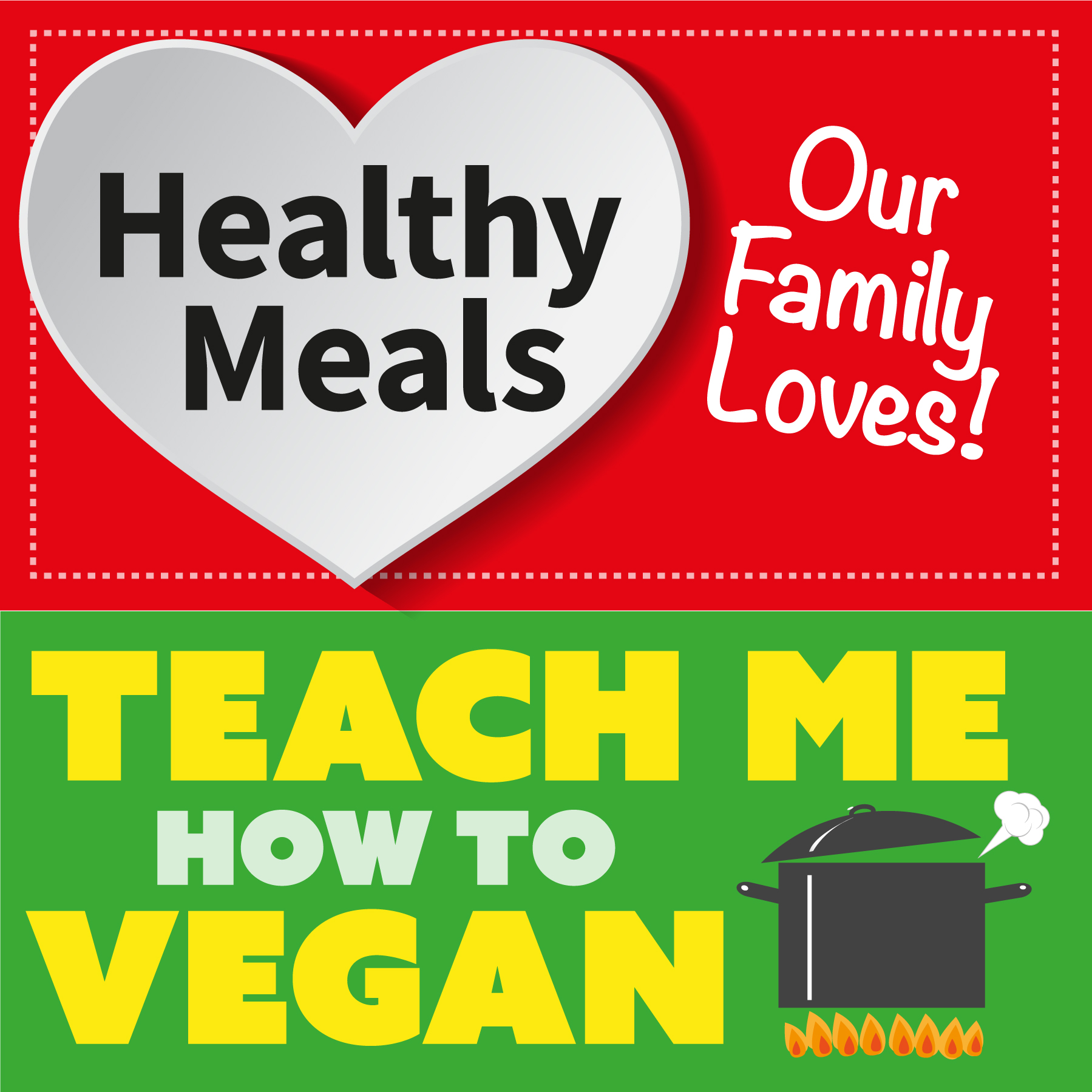 You can also listen on iTunes/Apple Podcasts, Spotify, Stitcher, Deezer, Podcast Addict, YouTube, and Libsyn.
In this episode of Teach Me How To Vegan we share 10 meals that are healthy, easy to make, and that are loved by our whole family—including the kids! If you're looking for recipes and ideas for adding more whole foods and/or more vegetables to your diet, this episode is for you.
The contents of this podcast are not intended to be a substitute for professional medical advice, diagnosis, or treatment, and does not constitute medical or other professional advice.

Recipes Mentioned
Corn Chowder
https://www.copymethat.com/r/q3h4c3p/hannahs-corn-chowder/
Lentil Stew
https://www.bigoven.com/recipe/lentil-soup-students-vegetarian-cookbook/652487
Broccoli Cheese Soup 1
https://bitesofwellness.com/vegan-broccoli-cheese-soup/
Broccoli Cheese Soup 2
https://youtu.be/mYI_j2uhPJw
Curry
https://minimalistbaker.com/30-minute-coconut-curry/
Summer Rolls & Peanut Sauce
https://apnm.org/wp-content/uploads/2020/01/Summer-Rolls-and-Peanut-Sauce-Recipe.pdf
Fruity Summer Rolls w/ Chocolate Sauce
https://apnm.org/wp-content/uploads/2020/01/Fruity-Summer-Rolls-with-Chocolate-Sauce-Recipe.pdf
Tempeh Marinade
https://apnm.org/wp-content/uploads/2020/07/Tempeh-Marinade-Recipe.pdf
Fajitas 1 (Simple)
https://apnm.org/wp-content/uploads/2020/01/Quick-n-Easy-Fajitas-Recipe.pdf
Fajitas 2 (More complex recipe)
https://apnm.org/wp-content/uploads/2020/01/Sizzling-Fabulous-Fajitas-Recipe.pdf
Cheese Sauce
https://apnm.org/wp-content/uploads/2020/10/Cheese-Sauce-Recipe.pdf
Burrito Bowls
https://lovingitvegan.com/vegan-burrito-bowls/
Arroz con Gandules (omit the ham and use vegetable broth instead of chicken broth)
https://www.delishdlites.com/recipe-index/holiday-recipes/arroz-con-gandules-puerto-rican-rice-with-pigeon-peas-recipe/
Whole Food Ranch
https://www.facebook.com/highcarbhannah/photos/a.586444621477334/1281405378647918
Tofu Ricotta
https://simpleveganblog.com/vegan-tofu-ricotta/

Products Mentioned
Judy's Green Veggies (instant soups)
https://judysgreenveggies.org/shop
PB 2 Powder
https://shop.pb2foods.com/products/pb2-original-powdered-peanut-butter-peanut-butter-powder

Resources/Restaurants Mentioned
Thai Vegan
http://thaivegannm.com
Siam Café
http://www.siamcafeabq.com
Alquds Mediterranean Grill & Grocery (market where we get curry powder and the best pita ever)
https://alqudsabq.com
High Carb Hannah
https://www.youtube.com/c/HighCarbHannah/featured