"Accidentally Vegan Foods"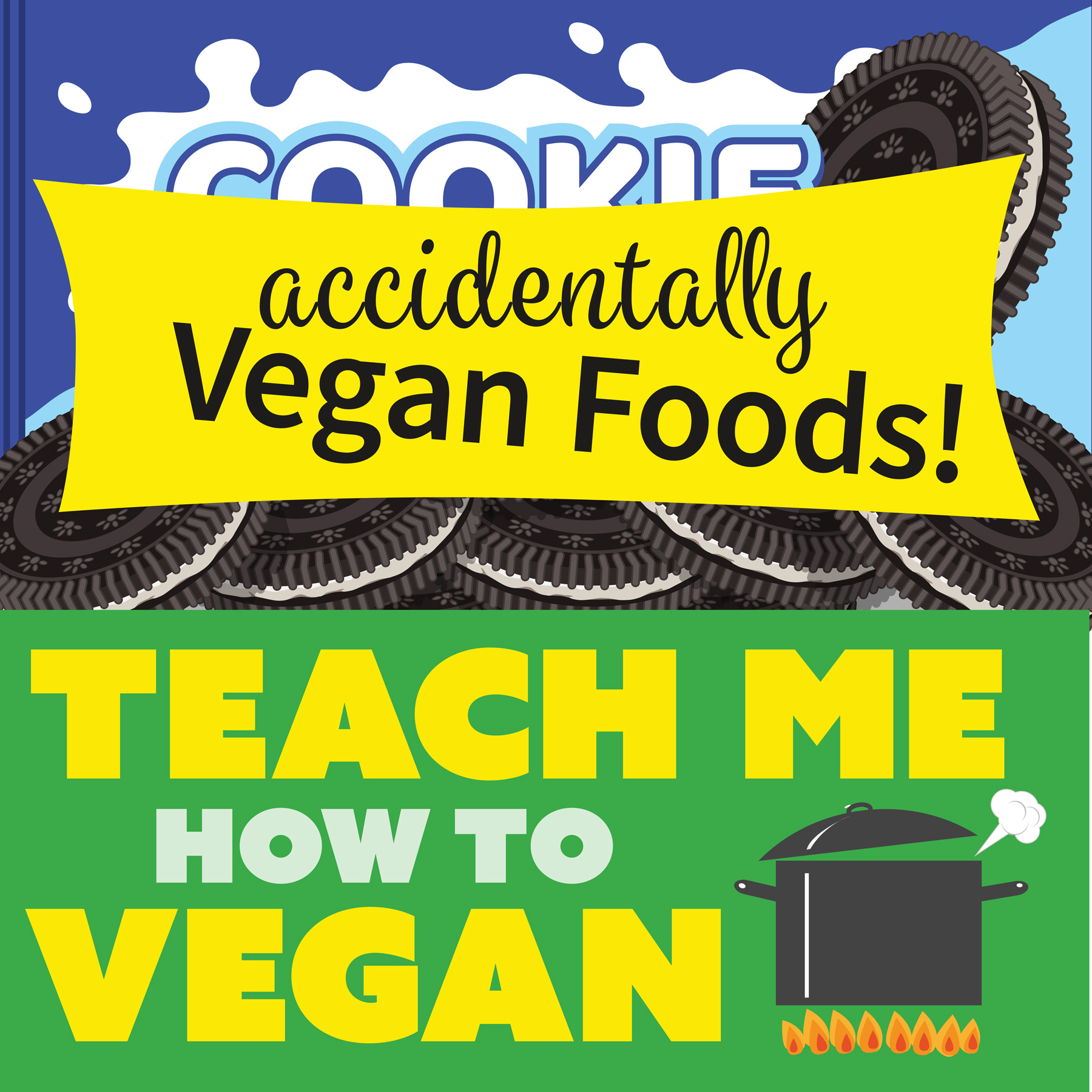 You can also listen on iTunes/Apple Podcasts, Spotify, Stitcher, Deezer, Podcast Addict, YouTube, and Libsyn.
In this episode of Teach Me How To Vegan we discuss a wide variety of foods that are naturally, or "accidentally" vegan. From veggies and hummus to Cracker Jacks and Oreo cookies, there are so many foods that can still be included on a vegan diet, depending on your specific goals and lifestyle. We present a plethora of ideas to consider as you plan and adjust your diet. Even for many people who focus on a healthy lifestyle, it can be helpful to have a list of foods to fall back on in a pinch.
The contents of this podcast are not intended to be a substitute for professional medical advice, diagnosis, or treatment, and does not constitute medical or other professional advice.

Products Mentioned
Skinny Pop White Cheddar
https://www.target.com/p/skinnypop-white-cheddar-popcorn-4-4oz/-/A-47961310
Bush's Vegetarian Baked Beans
https://bushbeans.com/en_US/product/vegetarian
Litelife Smart Dogs
https://lightlife.com/product/smart-dogs/
Rosarita Vegetarian Refried Beans
https://www.rosarita.com/traditional/refried-beans-vegetarian
Amy's Soups
https://www.amys.com/our-foods/organic-tortilla-soup
Kroger Creamy Italian
https://www.smithsfoodanddrug.com/p/kroger-creamy-italian-dressing/0001111003631
Kraft Creamy Italian
https://www.target.com/p/kraft-creamy-italian-salad-dressing-16-fl-oz/-/A-12946483
Smith's Croutons
https://www.smithsfoodanddrug.com/p/simple-truth-organic-garlic-onion-parsley-seasoned-croutons/0001111086330
Ken's Steakhouse Sweet Vidalia Onion
https://www.kensfoods.com/products/sweet-vidalia-onion
Baco's Bacon Bits
https://uedata.amazon.com/Betty-Crocker-Baco-s-Bacon-Flavor-Bits-4-4-Ounce-Jars-Pack-of-12/dp/B000EFBM4O
Country Crock Butter
https://www.countrycrock.com/our-products/plant-butter
Crescent Rolls
https://www.pillsbury.com/products/crescents/original
Doritos Spicy Sweet Chili
https://www.target.com/p/doritos-spicy-sweet-chili-chips-9-5oz/-/A-12992572
Fuego Takis
https://www.target.com/p/barcel-takis-fuego-hot-chili-pepper-lime-corn-snacks-9-9oz/-/A-14901109
Club Crackers
https://www.target.com/p/keebler-original-club-crackers-13-7oz/-/A-12990525
Nabisco Graham Crackers
https://www.walmart.com/grocery/ip/Nabisco-Original-Grahams-14-4-oz/10292704
Cracker Jacks
https://www.walmart.com/grocery/ip/Cracker-Jack-Caramel-Coated-Popcorn-Peanuts-8-5-Oz/26914285
Marie Callender's Fruit Pies
https://www.target.com/p/marie-callender-s-razzleberry-frozen-pie-40oz/-/A-13409109
Nutter Butters
https://www.target.com/p/nutter-butter-peanut-butter-sandwich-cookies-family-size-16oz/-/A-12943079
Sugar Wafers
https://www.amazon.com/Keebler-Strawberry-Sugar-Wafers-Twelve/dp/B001IMUGR6/ref=asc_df_B001IMUGR6/