Cookies, Brownies, & Cakes—Oh My!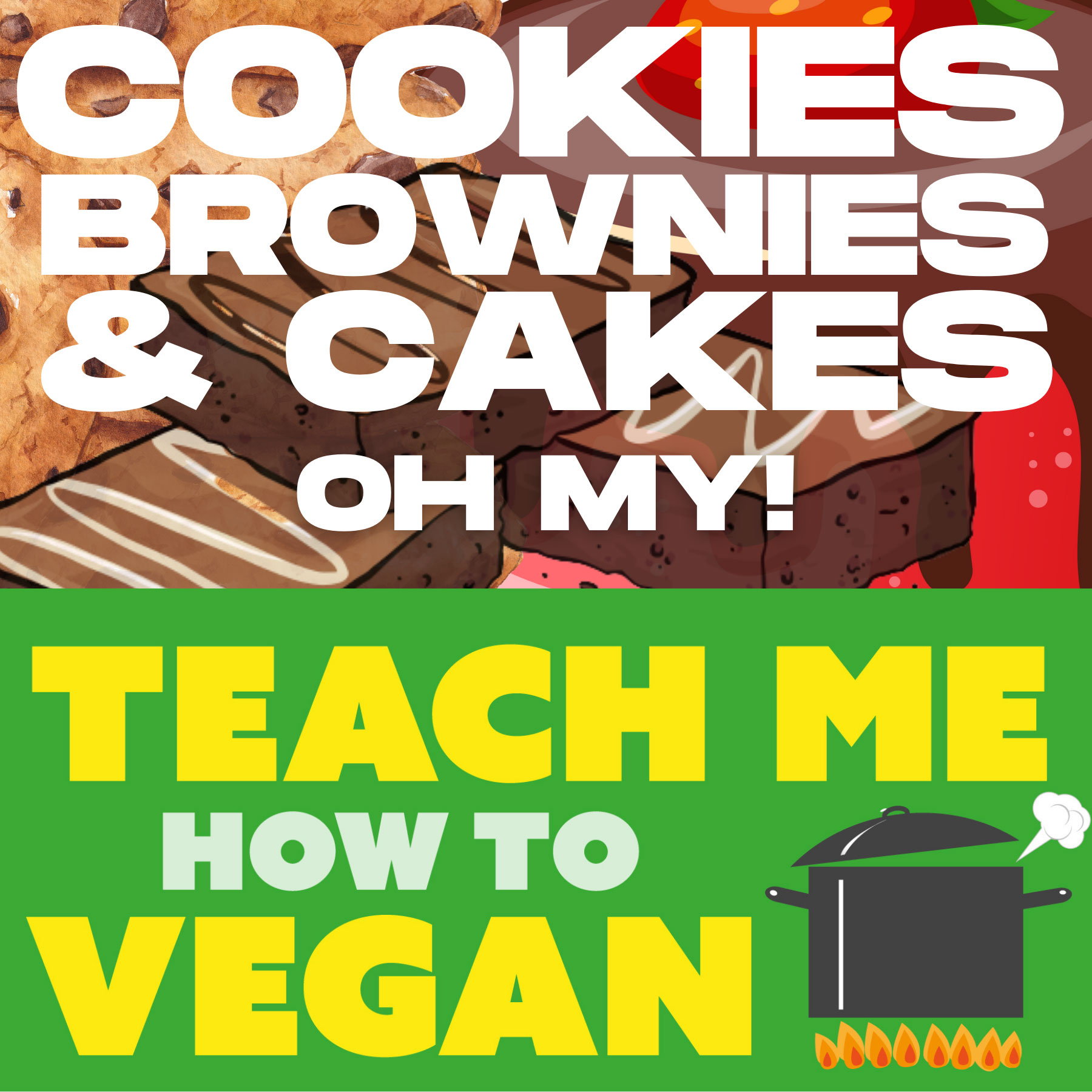 In this episode of Teach Me How To Vegan we have a sweet conversation about our favorite recipes and techniques for baking delectable vegan desserts. We include some treats that are on the healthier side for those interested, and of course all of the recipes we share are easy peasy. Tune in and learn new ideas for satisfying that sweet tooth!
The contents of this podcast are not intended to be a substitute for professional medical advice, diagnosis, or treatment, and does not constitute medical or other professional advice.

Recipes Mentioned:
Chocolate Chip Cookies
https://healthyhappylife.com/my-best-vegan-cookie-recipe-yet-plus-7
Raspberry Jam Shortbreads
https://booksvooks.com/fullbook/the-power-of-poppy-pendle-pdf-natasha-lowe.html?page=33&part=2
Cookie for One
https://peanutbutterpluschocolate.com/single-serve-cookies-vegan/
Brownie in a Mug (use a vegan butter and vegan milk)
https://www.simplyrecipes.com/recipes/brownie_in_a_mug/
Black Bean Brownies (use maple syrup in place of honey and flax instead of eggs)
https://www.superhealthykids.com/lunch-time-dessert-baby-black-bean-brownies/
"Depression Cake" aka "Crazy Cake"
https://sweetlittlebluebird.com/tried-true-tuesday-crazy-cake-no-eggs/

Products Mentioned:
Great Value Allergen Free Chocolate Chips
https://www.godairyfree.org/product-reviews/great-value-free-from-baking-chips
Resources Mentioned:
#incrEDIBLEplanetchallenge
https://eatthechange.com/pages/incredible-planet-challenge
"What went wrong with my cookies" (Mickey mentioned)
https://www.insider.com/what-went-wrong-with-chocolate-chip-cookies-recipe