Cooking for the Holidays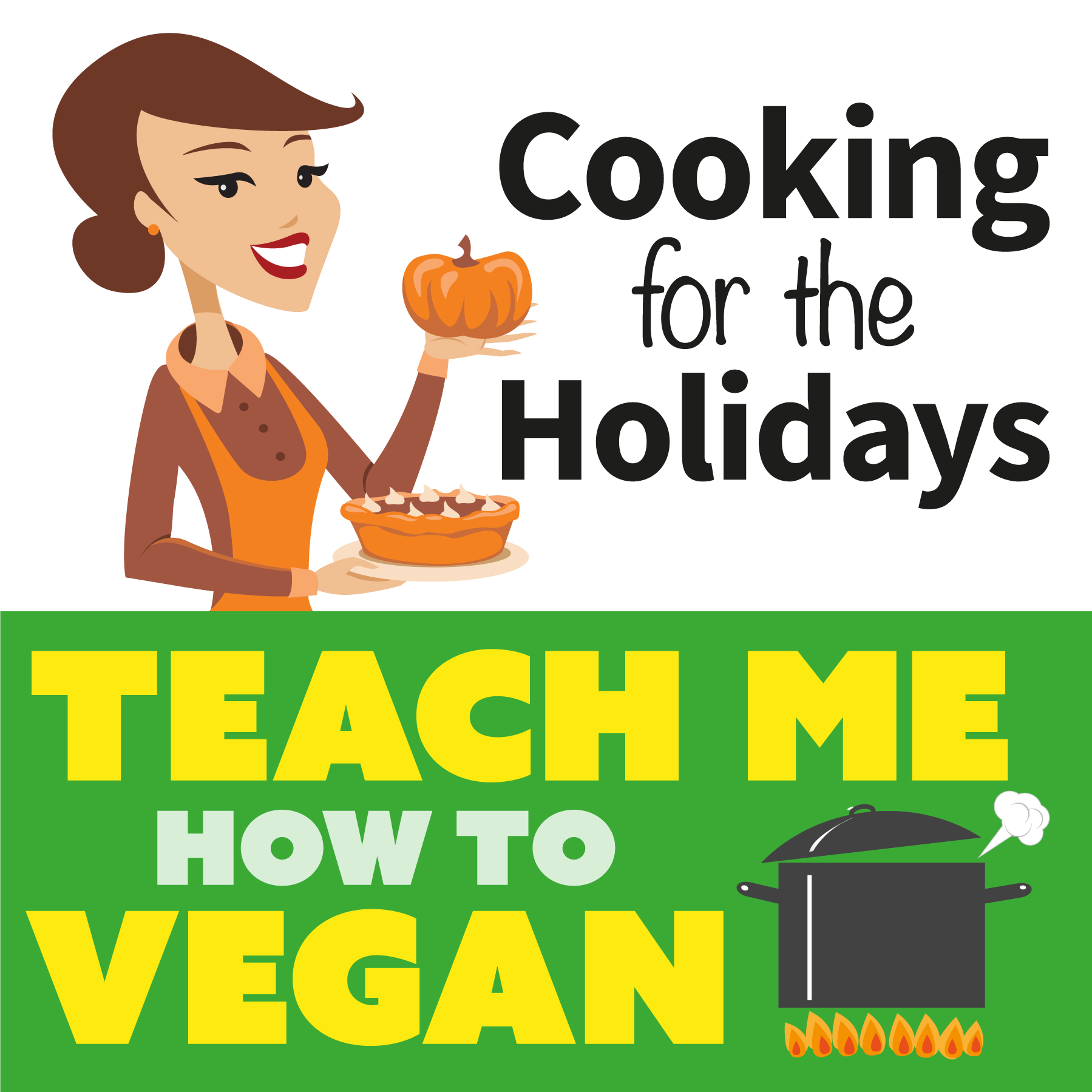 You can also listen on iTunes/Apple Podcasts, Spotify, Stitcher, Deezer, Podcast Addict, YouTube, and Libsyn.
In this episode of Teach Me How To Vegan we share ideas and recipes for creating delicious plant-based meals that are sure to please the whole family. We talk about all of the different vegan "roasts" that we've tried and discuss recipes and ideas for other main dishes as well as side dishes, gravies, breads, and desserts. Whether you're cooking for a large family, or just yourself, this episode has everything you need to create a delicious and festive holiday feast.
The contents of this podcast are not intended to be a substitute for professional medical advice, diagnosis, or treatment, and does not constitute medical or other professional advice.

Recipes Mentioned
Stuffed Squash (recipe coming soon to apnm.org/recipes)
Lentil Loaf
https://highcarbhannah.co/recipes/vegan-lentil-loaf/
Green Bean Casserole
https://www.delish.com/holiday-recipes/thanksgiving/a23013030/easy-vegan-green-bean-casserole-recipe/
Mushroom Gravy
https://simple-veganista.com/vegan-mushroom-gravy/
Cheese Sauce
https://apnm.org/wp-content/uploads/2020/10/Cheese-Sauce-Recipe.pdf
Biscuits
https://apnm.org/wp-content/uploads/2020/04/Fluffy-Biscuits-Recipe.pdf
Pumpkin Pie
https://apnm.org/wp-content/uploads/2020/11/Pumpkin-Pie-Recipe.pdf 
Pumpkin Cheesecake
https://apnm.org/wp-content/uploads/2020/10/Pumpkin-Cheesecake-Recipe.pdf
"Oreo Bomb Cake" (use vegan milk and vegan whipped cream)
https://cookiesandcups.com/oreo-icebox-cake/#_a5y_p=1139939
Pecan Pie
https://pcrm.widen.net/s/kqwx7w9djv
Sweet Potato Pie
https://sweetpotatosoul.com/2014/01/how-to-make-vegan-sweet-potato-pie.html
No Fuss Pie Crust
https://12tomatoes.com/no-fuss-pie-crust/
Products Mentioned
Tofurky Roast
https://tofurky.com/what-we-make/roasts/roast/#flavormenu
Tofurky Holiday Feast
https://tofurky.com/what-we-make/roasts/feast/#flavormenu
Gardein Holiday Roast
https://store.veganessentials.com/gardein-holiday-roast-p3775.aspx
Tofurky Ham Roast
https://tofurky.com/what-we-make/roasts/ham-roast/#flavormenu
Trader Joe's Turkey-less Stuffed Roast
https://www.livekindly.co/breaded-vegan-turkey-less-stuffed-holiday-roast-trader-joes/
Field Roast Hazelnut Cranberry Roast
http://fieldroast.com/product/hazelnut-cranberry-roast-en-croute/
Field Roast Celebration Roast
http://fieldroast.com/product/celebration-roast-traditional-bread-stuffing-gravy/
All Vegetarian Inc. Vegan Holiday Turkey Roast
https://veganforall.com/products/vegan-turkey-roast
Gardein Turk'y Cutlets
https://www.gardein.com/chickn-and-turky/classics/turky-cutlet
Gardein Stuffed Turk'y
https://gardein.ca/products/savory-stuffed-turky/
Mrs. Cubbison's Stuffing
http://www.mrscubbisons.com/products/traditional-seasoned-stuffing.php
Silk Original Soy Creamer
https://silk.com/plant-based-products/creamer/original-soy-creamer/
Silk Half & Half
https://silk.com/plant-based-products/creamer/dairy-free-half-and-half-alternative/
Daiya Cream Cheese
https://daiyafoods.com/our-foods/cream-cheese-style-spreads/plain/
Trader Joe's Marshmallows
https://www.traderjoes.com/digin/tag/marshmallows
Dandies Marshmallows
https://dandies.com/products/regular
Pillsbury Roll Mix
https://www.truegether.com/listing.html?id=USER.fcc7e616-646c-4265-a442-b1e39cea66e9
Egg Replacer
https://www.herbspro.com/collections/ener-g/products/egg-replacer
Pillsbury Crescent Rolls
https://www.pillsbury.com/products/crescents/original
Reddi Whip Almond Cream
https://www.reddiwip.com/non-dairy/non-dairy-almond
So Delicious Whipped Topping
https://sodeliciousdairyfree.com/dairy-free-foods/dairy-free-frozen-desserts/coconutmilk/cocowhip-original
Tru Whip
https://www.truwhip.com/nutrition/#vegan
Silk Heavy Whipping Cream
https://silk.com/plant-based-products/creamer/dairy-free-heavy-whipping-cream-alternative/
Marie Callender's Fruit Pies
https://www.mariecallendersmeals.com/large-frozen-desserts/fruit-seasonal-pies/dutch-apple-pie-0 
Resources Mentioned
Pumpkin Everything Webinar
https://youtu.be/atyb4Rd-5kA