Holiday Cooking: New Mexico Style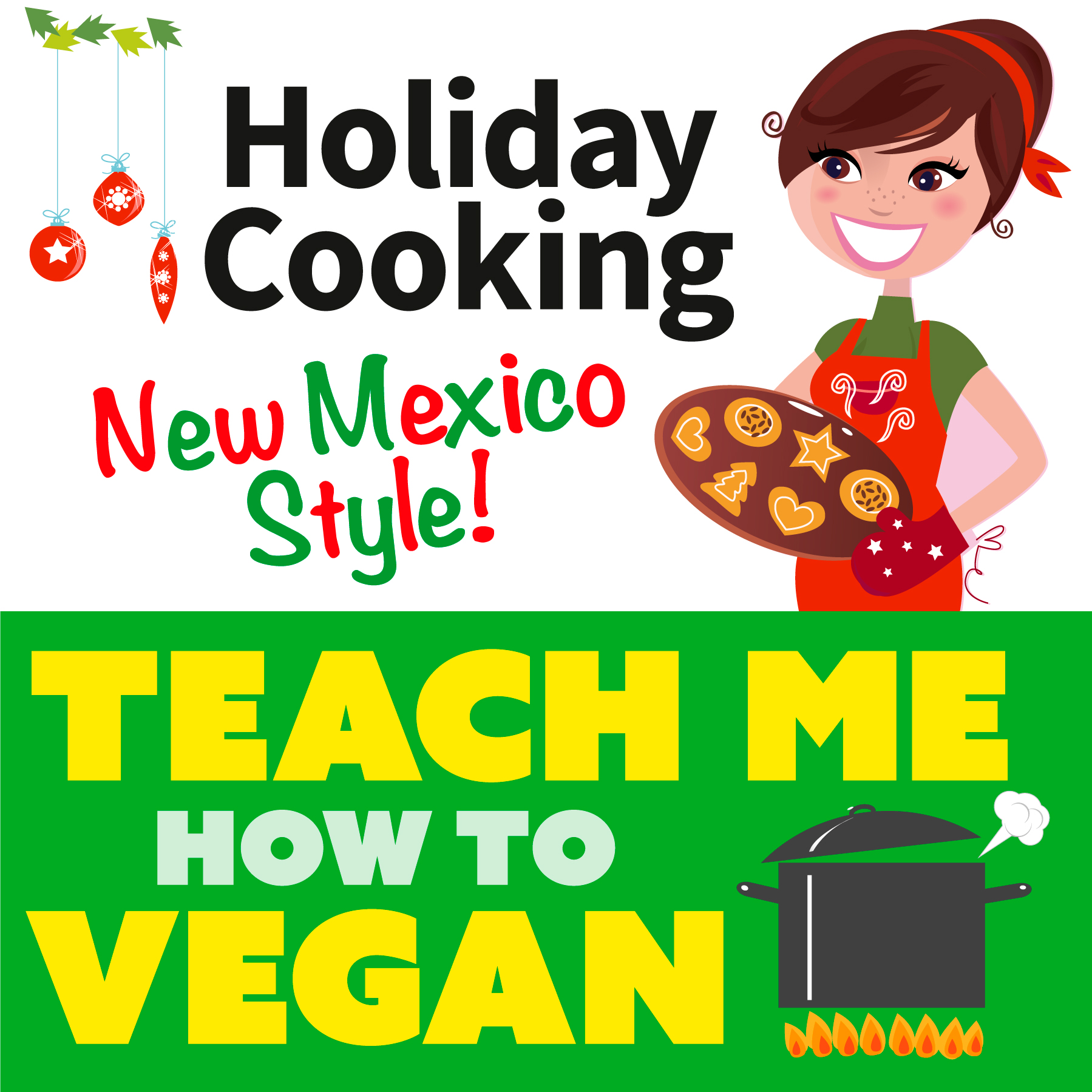 You can also listen on iTunes/Apple Podcasts, Spotify, Stitcher, Deezer, Podcast Addict, YouTube, and Libsyn.
In this episode of Teach Me How To Vegan we share our favorite traditional New Mexican foods to enjoy during the winter time, and discuss how we make them. We share recipes and tips for making tamales, posole, biscochitos, green chile apple pie, green chile stew, and atole. Whether you celebrate any holidays or not, there is always a good reason to cook up some festive New Mexican comfort food.

Recipes Mentioned
Tamales
https://apnm.org/wp-content/uploads/2020/12/Red-Chile-Porkless-Tamales-Recipe.pdf
Posole
https://apnm.org/wp-content/uploads/2020/12/NM-Posole-Recipe.pdf
Biscochitos
https://apnm.org/wp-content/uploads/2020/12/Biscochitos-Recipe.pdf
Green Chile Apple Pie
https://apnm.org/wp-content/uploads/2020/12/NM-Green-Chile-Apple-Pie-Recipe.pdf
Green Chile Stew
https://apnm.org/wp-content/uploads/2020/01/Green-Chile-Stew-Recipe.pdf
Atole (use plant-based milk of your choice)
https://www.mexicoinmykitchen.com/sweet-corn-atole/

Products Mentioned
Canned Jackfruit
https://thrivemarket.com/p/native-forest-organic-young-jackfruit
Chile Powder
https://www.amazon.com/Bueno-Special-Reserve-Premium-MED-HOT/dp/B01LY7WXQG/ref=asc_df_B01LY7WXQG
Frozen Red Chile
https://www.target.com/p/bueno-frozen-medium-hot-red-chili-14oz/-/A-47106626
Morningstar Chik'n Strips
https://www.morningstarfarms.com/en_US/products/meal-starters/morningstar-farms-chik-n-strips-product.html
Seitan Cubes
https://shop.sprouts.com/search?search_term=seitan
Better Than Bouillon
https://www.betterthanbouillon.com/products/seasoned-vegetable-base/
Masa Harina
https://www.walmart.com/grocery/ip/Maseca-Gluten-Free-Instant-Corn-Masa-Flour-400-Oz/10790737

Restaurants Mentioned
Vegos
https://www.vegosabq.com
Buen Provecho
https://www.buenprovechoabq.com
The Acre
https://www.theacrerestaurant.com
Tomato Café
https://www.tomatocafe.com
Golden Crown Panaderia
https://goldencrownpanaderia.hrpos.heartland.us/menu
La Salita
http://www.lasalita.com
Wanderlust Vegan Eatery
https://wanderlusteatery.weebly.com
Plantita Bakery
https://www.plantitaveganbakery.com
Tracy's Baked Goods
https://tracysbakedgoodsnm.square.site
Planty Sweet
https://plantysweet.weebly.com
Root 66 Café
https://root66.com

Resources Mentioned
Holiday Cooking NM Edition Webinar
https://youtu.be/JVz2dGp_yck
Atole Workshop Webinar
https://www.galeriamitotera.com/product/atole-workshop-recording/331