How To Veganize Your Favorite Foods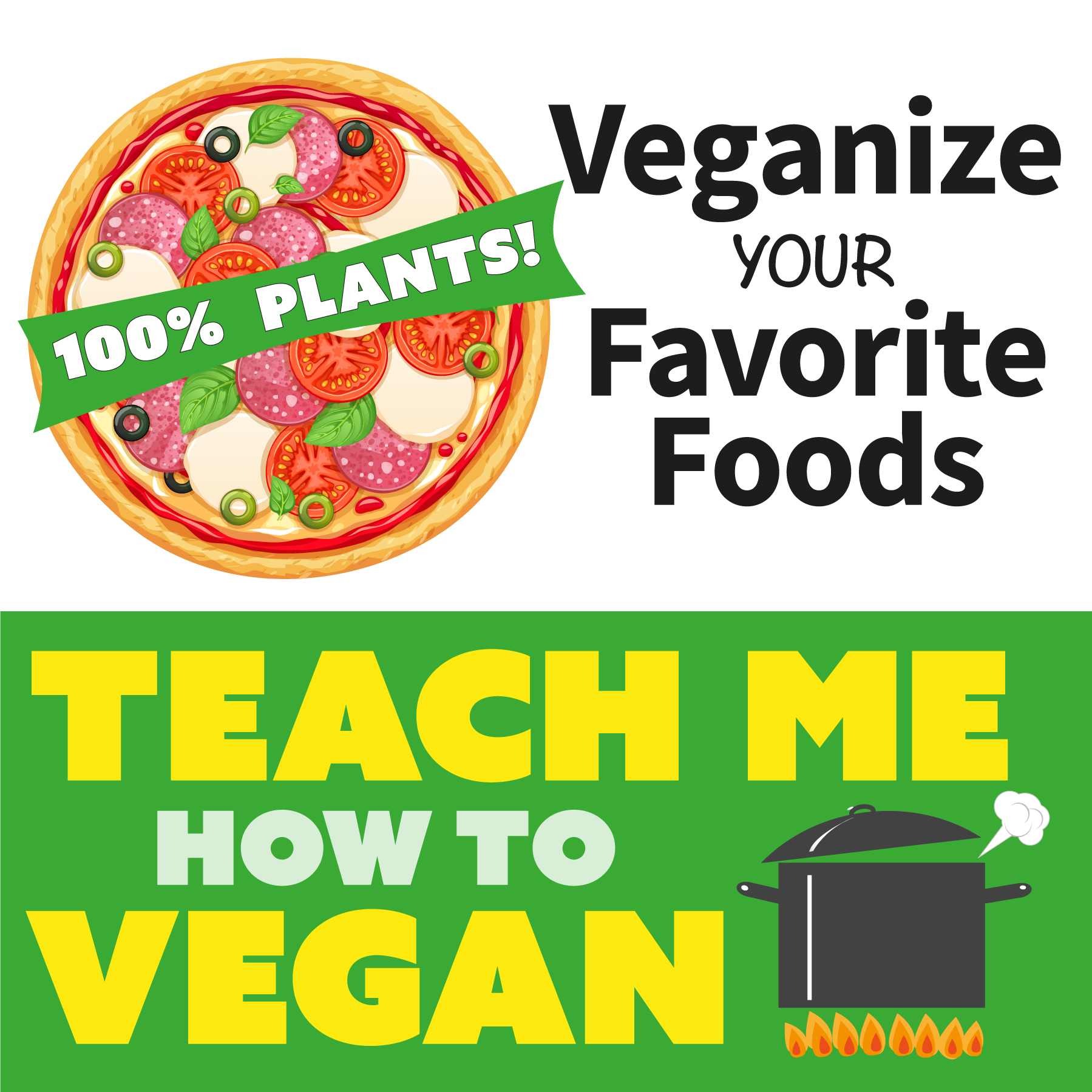 You can also listen on iTunes/Apple Podcasts, Spotify, Stitcher, Deezer, Podcast Addict, YouTube, and Libsyn.
In this episode of Teach Me How To Vegan we share our simple four-step process for how to veganize your favorite foods and we discuss the wide variety of plant-based products and ingredients that can be used as substitutions and swaps for meat, dairy, egg, and other animal-based foods. We also discuss the importance of this step in having a happy and successful vegan journey.

Recipes Mentioned
Green Chile Stew
https://apnm.org/wp-content/uploads/2020/01/Green-Chile-Stew-Recipe.pdf
Crab Cakes (using hearts of palm)
https://sweetpotatosoul.com/2014/11/vegan-crab-cakes-my-little-harlem-kitchen-vegan-brunch.html
Posole
https://apnm.org/wp-content/uploads/2020/12/NM-Posole-Recipe.pdf
Tamales
https://apnm.org/wp-content/uploads/2020/12/Red-Chile-Porkless-Tamales-Recipe.pdf
Chickpea Salad
https://vanillaandbean.com/smashed-chickpea-salad-sandwich/
Tofu Scramble
https://apnm.org/wp-content/uploads/2020/01/Tofu-Scramble-Recipe.pdf
Vegan Fried Eggs
https://apnm.org/wp-content/uploads/2020/07/Fried-Eggs-Recipe.pdf
Chickpea Flour Scrambled Eggs
https://lovingitvegan.com/vegan-scrambled-eggs/
Ranch
https://www.hotforfoodblog.com/recipes/2014/02/11/cauliflower-buffalo-wings/
Products Mentioned
Gardein Cutlets & "Chicken" products
https://www.gardein.com/chickn-and-turky
Seitan
https://www.goodnes.com/sweet-earth/products/seitan/
Gardein "Beef" Crumbles
https://www.gardein.com/beefless-and-porkless/gluten-free/beefless-ground
Morningstar "Beef" Crumbles
https://www.morningstarfarms.com/en_US/products/meal-starters/morningstar-farms-meal-starters-grillers-recipe-crumbles-product.html
Boca "Beef" Crumbles
https://www.bocaburger.com/products#crumbles
Annie's Mac-n-Cheese
https://www.annies.com/products/classic-mac-and-cheese/?diet=37&gclid=EAIaIQobChMIlZ-fgcKw7gIVDoizCh0qkQ_LEAAYASAAEgL7OfD_BwE
Daiya Mac-n-Cheese
https://daiyafoods.com/our-foods/cheezy-mac/
Beyond Meat
https://www.beyondmeat.com
Impossible Meat
https://impossiblefoods.com
Boca Chicken Nuggets
https://www.bocaburger.com/products#nuggets
Morningstar Chicken Nuggets
https://www.morningstarfarms.com/en_US/products/chikn/morningstar-farms-chik-n-nuggets-product.html
Gardein Fish Filets
https://www.gardein.com/fishless/golden-fishless-filet
Good Catch Vegan Fish
https://goodcatchfoods.com
Hearts of Palm
https://www.amazon.com/Galil-Hearts-Natural-Non-GMO-14-Ounce/dp/B00BQHIGNY/ref=sr_1_3
Morningstar Italian Sausage Crumbles
https://www.morningstarfarms.com/en_US/products/meal-starters/msf-meal-starter-flavored-italian-sausage.html
Tofurky Italian Sausage
https://tofurky.com/what-we-make/sausages/italian/#flavormenu
Field Roast Sausage
https://fieldroast.com/products/#sausages
Sweet Earth Benevolent Bacon
https://www.goodnes.com/sweet-earth/products/benevolent-bacon-fresh/
Jackfruit
https://www.amazon.com/Trader-Joes-Green-Jackfruit-Ounces/dp/B0773ZHH6X
Tofurky Deli Slices
https://tofurky.com/what-we-make/deli-slices/
Lightlife Deli Slices
https://lightlife.com/product/smart-deli-turkey/
Yves Deli Slices
http://yvesveggie.com/en/products/deli-slices/
Daiya (cheese, ranch)
https://daiyafoods.com
Miyoko's (cheese & butter)
https://miyokos.com
Tofutti (cream cheese & sour cream)
https://tofutti.com
VioLife (cheese)
https://violifefoods.com/us
Follow Your Heart (cheese, eggs, mayo, ranch, vegenaise)
https://followyourheart.com
Kite Hill (cream cheese, yogurt, sour cream)
https://www.kite-hill.com
Just Egg
https://www.ju.st
Egg Replacer
https://www.ener-g.com/products/egg-replacer
Better Than Bouillon
https://www.betterthanbouillon.com/our-products/?group=vegetarian
Edward & Sons Bouillon Cubes
https://store.edwardandsons.com/products/not-chickn-bouillon-cubes
Earth Balance
https://www.earthbalancenatural.com
Country Crock Vegan Butter
https://www.countrycrock.com/our-products/plant-butter/avocado-sticks
Melt
https://meltorganic.com/our-products/
Best Foods Vegan Mayo
https://www.bestfoods.com/us/en/products/organic-and-vegan/vegan-dressing-spread.html
Resources Mentioned
APNM Blog
https://apnm.org/what-we-do/promoting-plant-based-eating/plant-based-eating-blog/