The Hunt for Vegan Recipes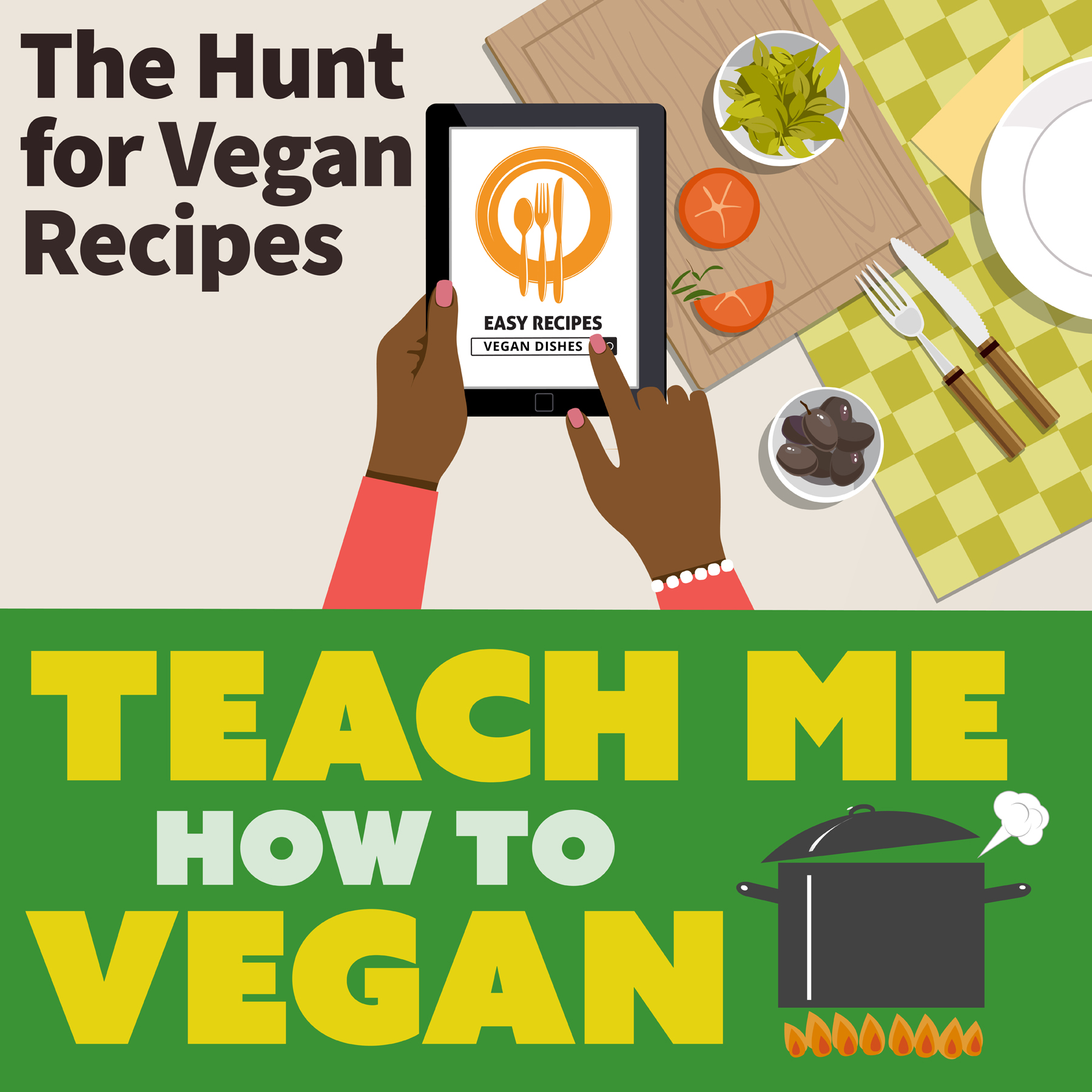 You can also listen on iTunes/Apple Podcasts, Spotify, Stitcher, Deezer, Podcast Addict, YouTube, and Libsyn.
In this episode of Teach Me How To Vegan, we share some of our favorite resources for finding great vegan recipes including blogs, cook books, other websites, and we share a few of our favorite recipes from those sites. There is so much information and so many resources available, sometimes too much information can be overwhelming and not helpful—we hope this episode will help you jumpstart your recipe repertoire and give you a starting point for finding recipes that match your taste, preferences, and lifestyle.
The contents of this podcast are not intended to be a substitute for professional medical advice, diagnosis, or treatment, and does not constitute medical or other professional advice.

Resources Mentioned:
APNM Plant-Based Eating Program Recipes
https://apnm.org/recipes
Nora Cooks
https://www.noracooks.com
hot for food by Lauren Toyota
https://www.hotforfoodblog.com
Sweet Potato Soul
https://sweetpotatosoul.com
High Carb Hannah
https://highcarbhannah.co
Let's Get Saucy ebook
https://highcarbhannah.co/product/lets-get-saucy/
Physicians Committee for Responsible Medicine
https://www.pcrm.org/good-nutrition/plant-based-diets/recipes
nutritionfacts.org Recipes
https://nutritionfacts.org/recipes
How Not to Die Cookbook
https://www.amazon.com/How-Not-Die-Cookbook-Recipes/dp/1250127769
How Not to Diet Cookbook
https://www.amazon.com/How-Not-Diet-Cookbook-Permanent/dp/1250199255
Oh She Glows
https://ohsheglows.com/the-book/
Doesn't Taste Like Chicken
https://itdoesnttastelikechicken.com

Recipes Mentioned
Spanikopita
https://avirtualvegan.com/vegan-spanakopita/
Breakfast Trifle
https://www.hotforfoodblog.com/recipes/2018/04/10/vegan-biscuit-bacon-egg-breakfast-trifle/
Buffalo Cauliflower Wings
https://www.hotforfoodblog.com/recipes/2014/02/11/cauliflower-buffalo-wings/
Fried Eggs
https://apnm.org/wp-content/uploads/2020/07/Fried-Eggs-Recipe.pdf
Corn Chowder
https://youtu.be/IruyT78MU3M
Green Bean Casserole
https://itdoesnttastelikechicken.com/vegan-green-bean-casserole/
Tofu Ricotta
https://www.pbs.org/food/fresh-tastes/stuffed-shells/
Chocolate Chip Cookies
https://healthyhappylife.com/my-best-vegan-cookie-recipe-yet-plus-7/