Vegan on a Budget Pt 1: 15 Cheap & Easy Meals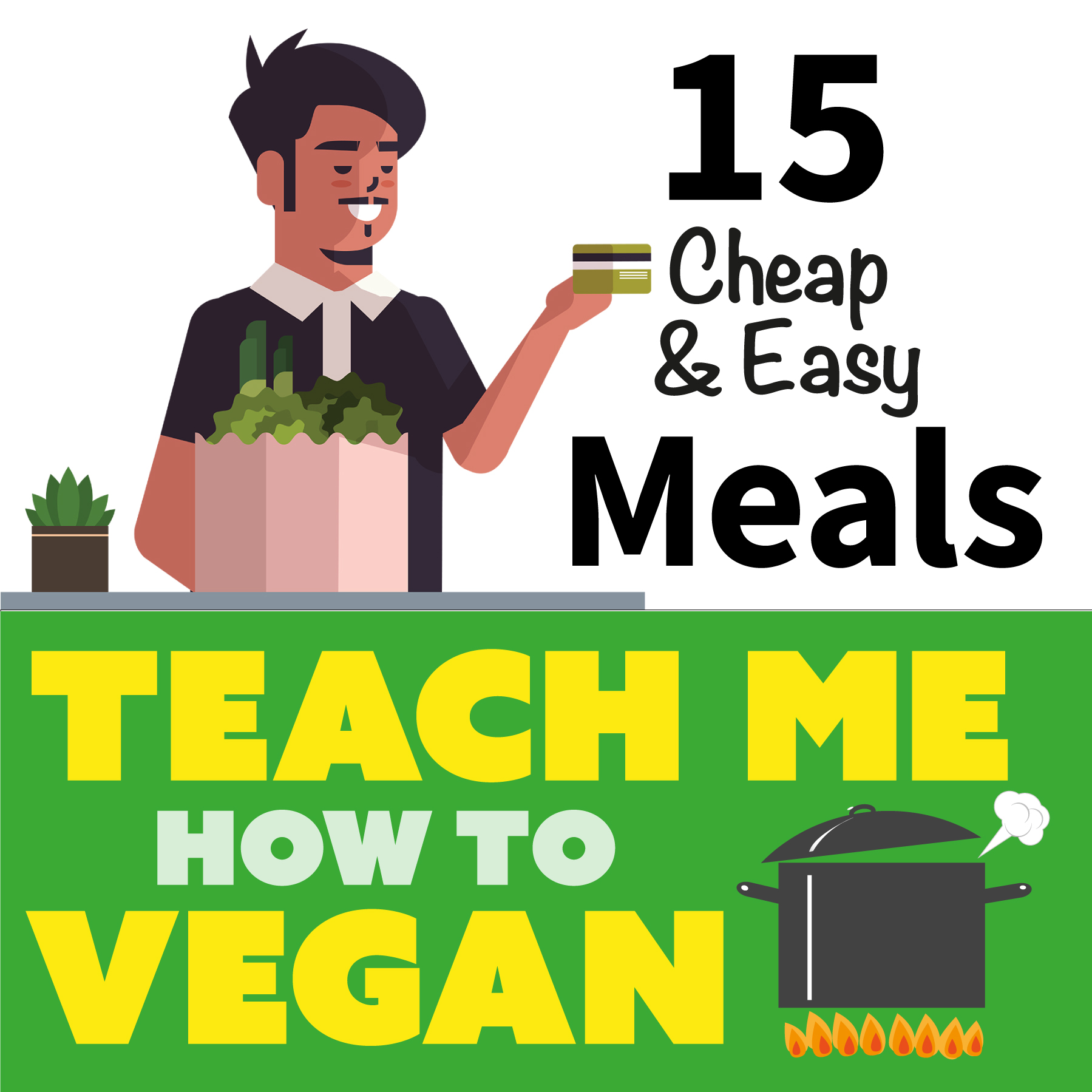 In this episode on Teach Me How To Vegan we share some easy and doable tips for improving your food budget, we share our food budget and how we determined our budget, and some meal ideas that feed a family of four for five dollars or less. We include ideas for breakfasts, lunches, dinners, and some of our go-to meals.
The contents of this podcast are not intended to be a substitute for professional medical advice, diagnosis, or treatment, and does not constitute medical or other professional advice.
Recipes Mentioned:
Cooked Oats
https://www.veggiesdontbite.com/simple-oatmeal/
Overnight Oats
https://lovingitvegan.com/almond-butter-overnight-oats/
Instant Pot Porridge
https://veggiechick.com/instant-pot-oatmeal/
Smoothies
https://www.noracooks.com/vegan-green-smoothie/
Biscuits
https://apnm.org/wp-content/uploads/2020/04/Fluffy-Biscuits-Recipe.pdf
Gravy (use vegan butter and vegan milk)
https://www.food.com/recipe/most-simple-vegetarian-white-gravy-306761
Poor Man's Sausage
http://icookandpaint.com/2018/12/03/meatless-sausagestarving-artist-fare/
Chili Stew
https://thekitchengirl.com/3-bean-vegan-chili/
Arroz con Gandules (omit the ham and use vegetable broth instead of chicken broth)
https://www.delishdlites.com/recipe-index/holiday-recipes/arroz-con-gandules-puerto-rican-rice-with-pigeon-peas-recipe/
Curry
https://minimalistbaker.com/30-minute-coconut-curry/
Tofu Fried Rice
https://minimalistbaker.com/easy-vegan-fried-rice/
Cheese Sauce (for Mac-n-Cheese)
https://gourmandelle.com/best-vegan-nacho-cheese-sauce/
Tofu Scramble
https://apnm.org/wp-content/uploads/2020/01/Tofu-Scramble-Recipe.pdf
Tofu Breakfast Bake
https://apnm.org/wp-content/uploads/2020/07/Tofu-Breakfast-Bake-Recipe.pdf
Vegan Egg Yolk
https://apnm.org/wp-content/uploads/2020/07/Fried-Eggs-Recipe.pdf
Pancakes
https://apnm.org/wp-content/uploads/2020/04/Pancakes-Recipe.pdf
Tofu Bacon
https://apnm.org/wp-content/uploads/2020/04/Tofu-Bacon-Strips-Recipe.pdf
Pizza Crust
https://www.sugardishme.com/10-minute-pizza-dough/
Enchilada Stew
https://www.youtube.com/watch?v=2pmY9h51i1U
Green Chile Stew
https://apnm.org/wp-content/uploads/2020/01/Green-Chile-Stew-Recipe.pdf
Products Mentioned:
Organic Rolled Oats
https://www.bobsredmill.com/shop/oats/gluten-free-organic-old-fashioned-rolled-oats.html
Steel Cut Oats
https://www.bobsredmill.com/shop/oats/gluten-free-organic-steel-cut-oats.html
Silk Soy Milk
https://silk.com/plant-based-products/soymilk/original-soymilk/
Arrowhead Mills Organic Flour (Tony's Favorite)
https://arrowheadmills.com/cpt_products/organic-all-purpose-flour/
Tofurky Deli Slices
https://tofurky.com/what-we-make/deli-slices/
Morningstar Italian Sausage Crumbles
https://www.morningstarfarms.com/en_US/products/meal-starters/msf-meal-starter-flavored-italian-sausage.html
Tofurkey Italian Sausage
https://tofurky.com/what-we-make/sausages/italian/#flavormenu