Veganizing Halloween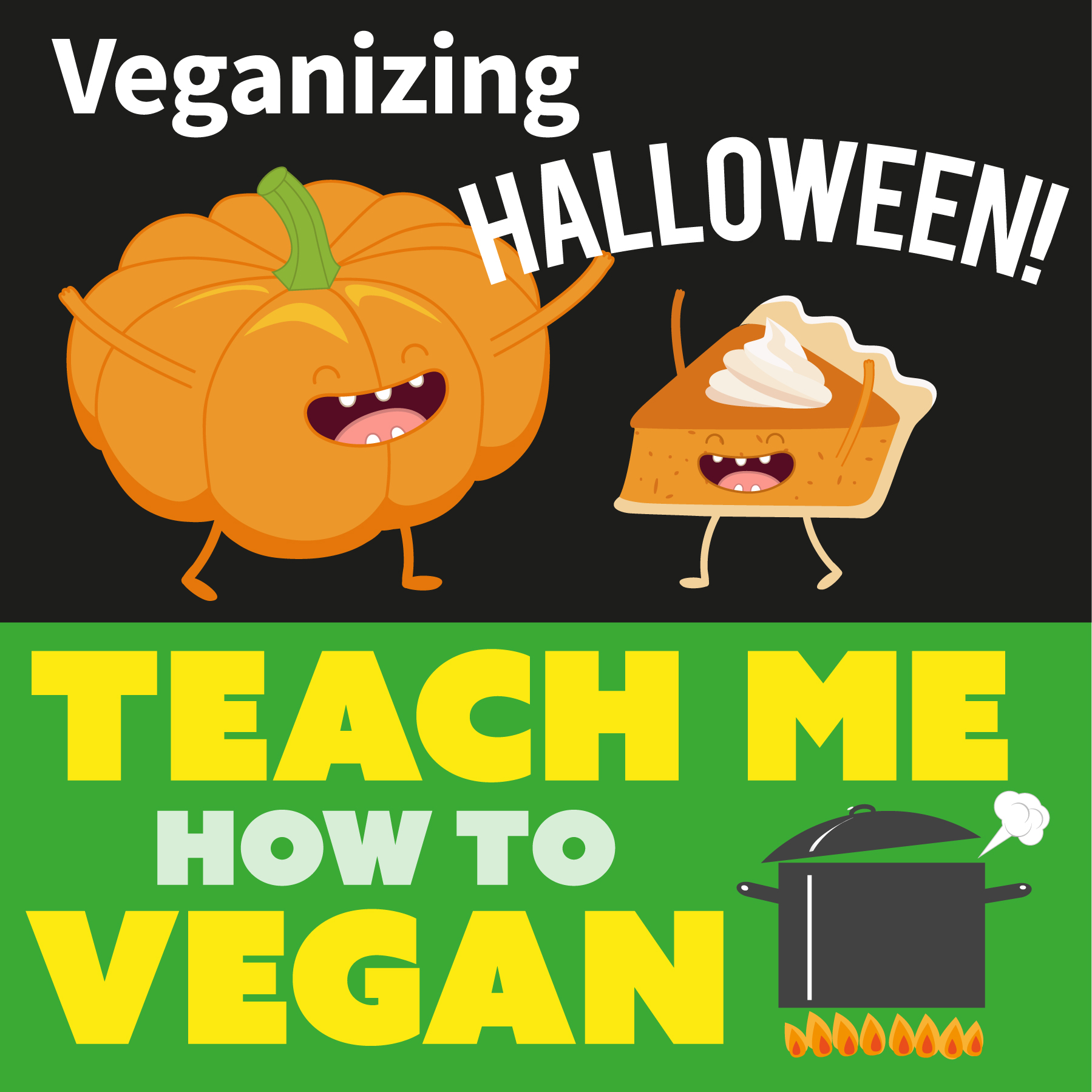 You can also listen on iTunes/Apple Podcasts, Spotify, Stitcher, Deezer, Podcast Addict, YouTube, and Libsyn.
In this episode of Teach Me How To Vegan we share tips and resources for enjoying a vegan Halloween. We share some basic pointers for identifying which candies are vegan, a list of our favorite vegan candies (both "accidentally vegan" and "intentionally vegan"), our favorite homemade vegan candies and treats, vegan Halloween themed foods, and resources for shopping and further reading. We include peanut free and other allergy friendly ideas as well.
The contents of this podcast are not intended to be a substitute for professional medical advice, diagnosis, or treatment, and does not constitute medical or other professional advice.
Products Mentioned
Enjoy Life
https://enjoylifefoods.com/collections/shop-all
UnReal
https://getunreal.com
UnReal "Peanut M&Ms" Candy
https://shop.getunreal.com/Dark-Chocolate-Peanut-Gems-Snack-Pack/p/UNR-006413&c=UnReal@SnackBags
Justin's Peanut Butter Cups
http://www.justins.com/nut-butter-cups
Theo Peanut Butter Cups
https://theochocolate.com/dark-chocolate-peanut-butter-cups/
Pea Not Cups
https://www.nowheychocolate.com/Milk_Free_Nut_Free_Gluten_Free_p/vegan-chocolate-peanot-cups.htm
Free to Be Sunflower Cups
https://free2bfoods.com/collections/sun-cups-minis
Cocomel Bites
https://jjssweets.com/pages/cocomel-bites-sea-salt-and-vanilla
Softer than Brittle (Pecan)
http://www.softerthanbrittle.com/stbpecan.html
Crescent Roll Dough
https://www.pillsbury.com/products/crescents/original
Dandies Marshmallows
https://dandies.com
Trader Joe's Marshmallows
https://www.traderjoes.com/fearless-flyer/article/5128
Sprouts Chocolate Chips
https://shop.sprouts.com/product/27570/sprouts-semi-sweet-chocolate-chips-10-oz
Trader Joe's Chocolate Chips
https://www.influenster.com/reviews/trader-joes-semi-sweet-chocolate-chips-12-oz-bag
Kirkland Chocolate Chips
https://www.costco.com/kirkland-signature-semi-sweet-chocolate-chips%2C-4.5-lbs.product.100381477.html
Nestle Simply Chocolate Chips
https://www.target.com/p/nestle-toll-house-simply-delicious-semi-sweet-baking-chips-10oz/-/A-53443807

Recipes Mentioned
Homemade Peanut Butter Cups
https://apnm.org/wp-content/uploads/2020/01/Peanut-Butter-Cups-Recipe.pdf
Homemade Candy Bars (Crunch Bar & Mr. Goodbar)
https://apnm.org/wp-content/uploads/2020/04/Homemade-Vegan-Candy-Bars-Recipe.pdf
Muddy Buddies (use vegan chocolate chips and any vegan butter)
https://www.chex.com/recipes/chex-muddy-buddies/
Kettle Corn (my recipe is a little different as mentioned in the episode, but this is the same ingredients and explains the process)
https://www.weelittlevegans.com/vegan-maple-kettle-corn/
Mummy Dogs (use vegan hot dogs such as Lightlife Smart Dogs)
https://www.pillsbury.com/recipes/crescent-mummy-dogs/d52a57d7-ab8a-4a1c-8dae-f9f90d03b912
 Mummy Calzone (use vegan cheese and vegan fillings, but use recipe for inspiration and layout)
https://www.imnotthenanny.com/2016/10/mummy-calzone-recipe.html
Spider Ring Taco (use vegan ingredients such as Gardein Beefless Crumbles, but use this recipe for inspiration)
http://pocketchangegourmet.com/halloween-food-for-kids-spider-taco-ring/
 Pizza Fingers (use vegan cheese)
https://tipbuzz.com/witches-fingers/

Resources Mentioned
Sweets & Desserts Webinar
https://youtu.be/-qhG2AI72hI
Natural Candy Store
https://www.naturalcandystore.com/category/vegan-candy
No Whey foods
https://www.nowheychocolate.com
PETA Vegan Halloween Candy Guide
https://www.peta.org/living/food/vegan-halloween-candies/
PETA Guide to Chewing Gum
https://www.peta2.com/vegan-life/is-gum-vegan