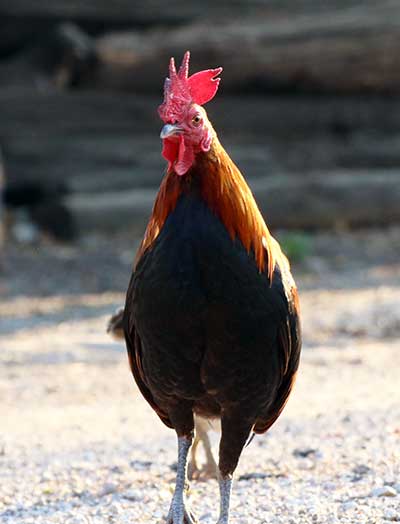 Recently, APNM provided comments in a media story about a cockfighting bust in Albuquerque this month. We took this opportunity to reflect on how things have changed—and stayed the same—since our legislative arm Animal Protection Voters' 2007 victory making cockfighting a criminal offense in New Mexico.
Despite the law on the books, APNM's Animal Cruelty Helpline continues to take complaints from the public regarding cruel and illegal cockfighting operations. When we receive these complaints, we refer them to the appropriate law enforcement agencies. We also follow cockfighting cases as they proceed through the New Mexico courts. These experiences continue to inform our views on this "blood sport" and its continued presence in our state.
You may not know that cockfighting is treated differently from dogfighting in state law: Dogfighting has been a 4th Degree Felony since it was made illegal in 1981. In contrast, although the 2007 cockfighting bill sought the same penalty as originally drafted, the bill language was amended twice in committee hearings and reduced before its passing to a Petty Misdemeanor upon first conviction, a Misdemeanor upon second conviction, and a 4th Degree Felony upon a third or subsequent conviction. This difference matters. A 4th Degree Felony is punishable by up to 18 months in prison and a $5,000 fine, while a Petty Misdemeanor is punishable by less than six months in jail and/or a fine of up to $500, and so criminals engaging in cockfighting know their risk is much lower.
This discrepancy in penalties is unfortunate because the cruelty involved in dog and cockfighting is the same: Animal victims are trained to fight from a young age, subjected to cruel training methods, and then fought to the death. Fighting animals are regularly doped with performance enhancing drugs, and the losers are discarded like trash. Not only is animal fighting callous and cruel, it's also frequently linked with drug and weapons trafficking, illegal gambling, money laundering, and violent crimes.
Children are harmed by the violence of animal fighting, too. APNM's humane education program, The Animal Connection, has seen this firsthand. Several years ago, when our humane educators prompted a third grade class to draw something they'd seen happen to an animal, one student presented them with a drawing of dogs in a fighting pit. The student said she was five years old when her father took her to dog fights. She talked about being frightened by the dogs barking and whining and the spectators yelling.
We applaud law enforcement when they investigate reports of animal fighting and justly pursue charges, like the Albuquerque Police Department did in this case—taking the complaint seriously and exposing and stopping this cockfight. Taking "blood sports" seriously matters to the roosters and dogs saved from the torture inflicted on them by animal fighters, but it also sends a strong message: abject cruelty and violence against even the smallest beings are not acceptable in New Mexico and our communities.
If you suspect dog or cockfighting, please contact APNM's Cruelty Helpline at 877-5HUMANE (877-548-6263). APNM is not a law enforcement agency and has no legal authority to intervene directly, but we can help callers identify and report dog and cockfighting concerns to local authorities. Callers may remain anonymous if they wish.