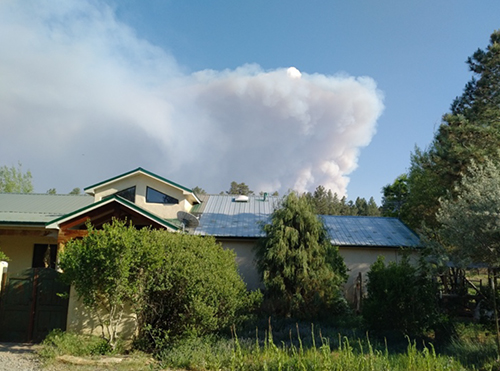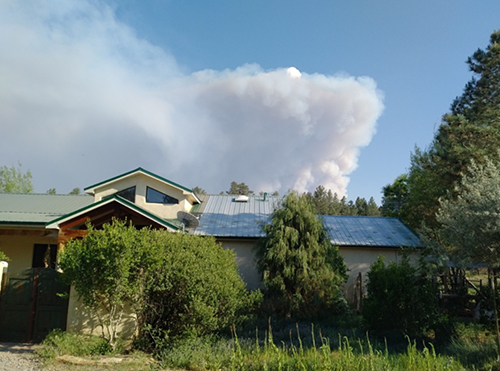 It wasn't the two days of physically exhausting work relocating our family and all of our companion animals to three separate safe locations. It wasn't the scrambling around the outbuildings of our ranch to find the right-sized crate for each animal. It wasn't even the sense of panic and how it makes your thought processes freeze in their tracks.
The hardest part was actually making the final decision to leave our home while a wildfire raged nearby. It was dismissing the voice in your head that kept saying, "This isn't happening…I'm sure everything will be fine."
The Dog Head Fire, which started June 14, 2016, in the Manzano Mountains, had spread to consume over 17,000 acres by June 15. There was a voluntary evacuation zone declared just a mile south of our home. When I called Bernalillo Incident Command to confirm, the dispatcher told me there was a good chance they would close Highway 217, the state road leading to our rural home and sanctuary near Tijeras in the East Mountains. Once that happened, you had to leave with everything you wanted to take, because there was no going back. That made the decision for us.
APNM has been promoting disaster preparedness for animals for many years. One would think that I, of all people – a member of the APNM staff, with a menagerie of rescued animals, including two donkeys and two large pigs that are not easily moved – would have had a concrete evacuation plan in place. I didn't.
After the fire was contained and we were able to safely return home with all our animals, my family and I cleared out a shelving unit in the basement and stocked it with our grab-and-go packs. We are now ready to leave in an emergency, with clothes, animal food, toolkit, flashlights, cell phone chargers, the personal, nostalgic items we cannot live without, and insurance and other critical paperwork. We have a binder filled with resource information and phone numbers. Our animal crates are catalogued and labeled and now stored in one location.
I was that person who said to himself and others, "Yeah, I should really make a fire plan." I am now that person telling others to do it. Do it today. I am not kidding. When it is upon you, it is terrifying.
I and our family offer our heartfelt gratitude to those who really came through for us. Thank you to Nancy McGeoghegan and Maxine Suazo for opening up their home to us and our dogs, cats, and birds. Thank you to Pamela James Lipponer for her trailer and safe haven for our donkeys and pigs. Thank you to Eberardo and Anne Lopez for helping us load the donkeys. Thank you to Brittany Stanforth and Bailey Beare for helping us crate and transport animals. Thanks to all the others who offered to drop everything and come help if it was needed.