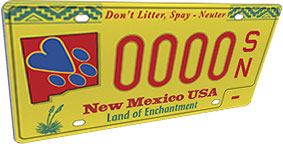 Beginning July 1, 2009, $25 of the $37 paid by New Mexicans for the state's "spay/neuter" license plate will go to spaying and neutering programs in the purchaser's county. That's compared to $6 of the $37 that went to programs in years past. If you haven't yet purchased your own spay/neuter license plate, this year is the time to do it.
Senate Bill 185, signed April 7, 2009 by Gov. Bill Richardson, amends language in the original spay/neuter license plate law increasing the percentage of the purchase price going to local programs and streamlining the money's distribution process. It also amends language in the state's Animal Sheltering Act to specify that spay/neuter programs in a county will receive the funds directly attributable to the number of the special license plates purchased in that county. The Animal Sheltering Board, a state-level regulatory board whose members have expertise in animal welfare issues and are appointed by the governor, now will distribute the funds directly to local spay/neuter programs.
Credit for the bill goes to State Sen. Mary Jane García, D-Doña Ana, a long-time champion of animal causes in New Mexico, freshman Representative Bill B. O'Neill, D – Albuquerque, and other legislators dedicated to improving the lives of New Mexico's animals. Animal Protection Voters (APV) worked with Senator Garcia to draft the legislation.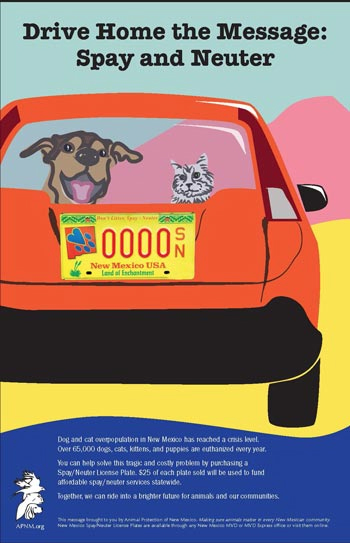 New Mexico residents can now be confident that proceeds from spay/neuter license plate sales are effectively reaching the programs the plates were designed to help. Enhanced spay/neuter programs at the local levels will help reduce the number of animals euthanized each year. In addition, fewer stray animals will help ease the burdens of city and county animal control and public safety budgets. New Mexico's animal shelters euthanized over 67,000 dogs and cats in 2007, according to a statewide survey conducted by APV's sister organization, Animal Protection New Mexico (APNM).
The bright yellow plates with a blue paw print over a red silhouette of New Mexico feature the message, "Don't Litter, Spay – Neuter." Their purpose is twofold: to educate people about the pet overpopulation problem facing New Mexico; and to help fund spay/neuter surgeries for dogs and cats around the state. The plates' design was created by Josh Leach when he was a design student at Albuquerque's Art Center Design College.
The spay/neuter license plates must be ordered from the Motor Vehicle Department. Order forms can be obtained at an MVD office or downloaded from the MVD website by clicking here (scroll down and look for "Pet Care – Spay/Neuter").
If you would like to help promote New Mexico's spay/neuter license plate in your community, full-color posters are available free of charge from APNM.