Plan For A Kinder Future – Leave A Legacy Gift
By including APNM in your estate plan, you will become a member of The Animal Protection Legacy Society. The Society was established to recognize and honor those who, through their thoughtfulness and generosity, have made a legacy gift to APNM (or our affiliate organizations*).
Members of our Legacy Society:
Receive an insider look into our organization via mid-year and end of year updates with the executive director
Are personally invited to special events
Are recognized publicly in our communications (if desired)
Have you already included us in your estate plans? We would be honored to know of your intentions and welcome you as a member of the Animal Protection Legacy Society. Contact Sara Norton-Sanner at snortonsanner@apnm.org or 505-264-9643.
Why We Give: Stories From Legacy Society Members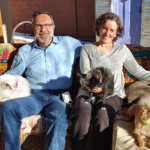 Legacy Society Members JC and Rae, Santa Fe County, NM
APNM and APV have demonstrated, for decades, their dedication to changing the lives of animals for the better here in New Mexico. APV changes laws and APNM makes sure those laws are enforced. Read more »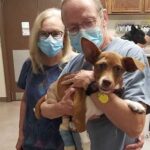 Legacy Society Members Dave and Ilene, Dona Ana County, NM
APV believes, as we do, that all animals deserve respect and compassion. APV works tirelessly to bring about systemic changes promoting the welfare of all animals—companion, domestic, and wild—through legislation and advocacy. This is why we are leaving a substantial portion of our estate to APV. Read more »
*Animal Protection New Mexico Foundation, Animal Protection Voters (APV), APV Endowment, New Mexico Foundation–EPF Endowment, New Mexico Foundation–Chimpanzee to Sanctuary Fund