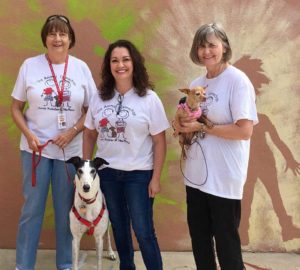 Sherry Mangold
Sherry Mangold, APNM's Educational Outreach Director and Lead Facilitator for the Teaching Compassion for Animals program, is a retired New Mexico schoolteacher and the recipient of a Golden Apple Award for teacher excellence. Ms. Mangold works with both law enforcement and community leaders to instill humane values among young people. She is the developer of The Animal Connection curriculum. She is also an evaluator, facility trainer and therapy dog handler for Southwest Canine Corps of Volunteers. Sherry works with rescued Greyhounds, Galgos, and troubled shelter dogs. In the classroom she is assisted by her registered therapy dogs.
Lyndi Martinez
Lyndi Martinez, Humane Educator, serves as the primary teacher of The Animal Connection in northern New Mexico communities. She has served as an Educational Assistant in both the Albuquerque and Denver public schools. A Santa Fe native, Lyndi works with numerous animal rescue groups including "Bridging the World Animal Sanctuary," and the Santa Fe Animal Shelter and Humane Society. Lyndi has bottle-fed and fostered many litters of kittens and puppies and adopted into her family, those who otherwise would never have found a home. Her caring nature reaches worldwide as she volunteers for educational humanitarian work in schools throughout Peru, Costa Rica, Guatemala and Morocco.
Cindy Wacek
Cindy Wacek, Co-Facilitator, Humane Educator, has been a certified New Mexico K-12 Special Education teacher for over thirty years. Her active involvement, both as a board member and trainer for Southwest Canine Corps of Volunteers makes her well qualified to teach humane education. She is also involved with humane organizations in Valencia County, where The Animal Connection curriculum was tested as a pilot. Ms. Wacek and her pack of tiny, registered therapy dogs teach in classrooms and assist in community presentations.