The Animal Connection
Adaptable for grades 3-5, 6-8, and 9-12
Reaching Common Core Standards Through Humane Education
The Animal Connection 12-week comprehensive humane education program is adaptable for grades 3 through 12 based on student capability as well as age appropriateness. The programs enhance academic performance in critical content areas through motivating lessons about animal welfare, and through the context of a student driven research project. Students are introduced to their assignment on day one of the program. In established teams, students gather information and insights into the care of a companion animal of their choosing. Through personal interviews, independent book and online research, enhanced by the classroom lessons, the students develop a five-paragraph expository paper and a corresponding multi-media presentation. At the end of the unit, the student teams present their findings to their peers, teachers, parents, school administrators and other guests.
Week 1: Introduction to Unit/Group Work and Listening Skills
Students will be introduced to The Animal Connection. Through participation in simulation games, students will learn the need for cooperation, reliability, and communication when participating in team activities. After receiving a template/research guide for their group's companion animal, the students will be taken through the process of how to complete the template and transform the information into a five-paragraph expository paper. Further suggestions are provided on how to use the information from the student research papers to create a live, multimedia presentation for their peers.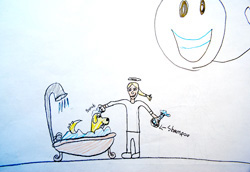 Week 2: Care and Responsibility: Humane Stewardship and Responsibility Timeline
Students will participate in a discussion involving the environmental, health, exercise and nutrition needs necessary for humane stewardship. Demonstrations of proper grooming and teeth brushing will be provided with the assistance of therapy dogs. The length of the commitment to various companion animals will be demonstrated through a Life Timeline, indicating the changes that will take place in students' lives throughout the lifespan of the companion animals they choose to research.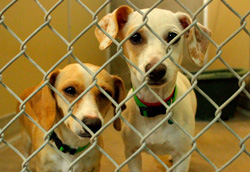 Week 3: Life and Death in the Shelter
Through a power-point presentation, students will experience the process a loose companion animal goes through from being picked up from the street, transported, scanned for micro-chip/tags/license, impoundment and life in the shelter. Students will scan a therapy dog for a micro-chip. Information regarding reuniting an animal with his owner and adopting an animal from the shelter will be shared as well as decisions regarding euthanasia. Costs to taxpayers will be discussed in addition to the need for responsible ownership.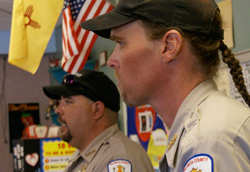 Week 4: The Work of the Animal Welfare Officer
Students will meet local animal welfare officers who will discuss their work as protectors of citizens as well as animals. Both fieldwork and shelter work will be explained and the officers will demonstrate the use of their equipment. Students will have the opportunity to tour an animal transport vehicle. The officers will stress the need for responsible ownership: pet identification, rabies vaccinations and licensing.
Week 5: The Need for Spaying and Neutering
Building on the "virtual tour" of the shelter intake process and shelter life presentation (Session 3), students will take part in math activities that will help them understand and truly comprehend the huge numbers (both nationally and locally) of animals being euthanized. When grade appropriate, students will use ratios and percentages in pie graphs to graphically depict the numbers of unwanted animals. Brief explanations about the surgeries will be provided and myths concerning spaying and neutering will be discussed. Information on local low-cost spay and neuter services will be provided.  Students will meet and learn the story of a shelter dog who now serves as a registered therapy dog.
Week 6: Train. Don't Chain: The Consequences of Chaining Dogs
Students will learn how long term chaining of dogs creates both animal cruelty and public safety issues. Territorial aggression and its effects due to chaining will be discussed.  Alternatives to chaining will be presented with precautions regarding tethering. Local ordinances will be explained. Students will participate in activities that illustrate for them both the frustration and feelings of isolation brought on by such confinement.
Week 7: Loose Dog/Bite Safety
Students will be taught how to read animals' behaviors, leading to discussions involving when to interact with a companion animal and when not to interact. Special emphasis will be given to precautions to take around unknown, loose dogs. Methods of protection from loose dogs, aggressive and biting dogs will be demonstrated and practiced. Through the assistance of registered therapy dogs, the students will practice skills involving safely approaching, giving a treat, and playing with an animal.
Week 8: Animal Fighting: Blood Sports
Students will learn the history of blood sports. Current New Mexico issues involving both dog and cock fighting will be presented. Through a power point presentation, students will become familiarized with the equipment used to train dogs and roosters to fight. They will see photographs of "pits" used for such events, the typical housing constructed for these animals and some animals being treated for their wounds received during the fights. Rehabilitation methods and concerns will be discussed.  Explanations of the county ordinances and state statutes involving animal fighting will be discussed as well as the other illegal activities that are typically involved with blood sport activities. Students will also learn how to safely report any cruelty or neglect situation involving an animal.
Week 9: The LINK
Students will study the connections amongst animal cruelty, bullying, domestic violence and assaultive behavior. Information about why a person becomes a bully, why some people are typically victims, why most stand by while it is happening and how to safely participate in stopping the cycle will be thoroughly discussed.  Emphasis will be placed on how to recognize and stop the cycle of abuse. Information on assistance for both animal and human victims will be distributed. Students will meet and hear the story of  a rescued shelter dog, now registered therapy dog, who was used as leverage in a domestic violence dispute. The value of kindness and humane treatment of animals will be discussed in the context of human relationships.
Week 10: "Sherpa's Farm:" The Animals of a Northern New Mexico Sanctuary
Students will investigate the special needs and responsibilities associated with the care of livestock through a video lesson filmed at a northern New Mexico farm animal sanctuary. Students will meet several of the animals and learn their background stories that brought them to the sanctuary. While following the ranch manager through a typical 24-hour period, students will visually experience the extent of the daily chores necessary to humanely care for them. Students will watch a farrier shoe a mule and a large animal veterinarian float a horse's teeth. When available, the lesson will include a live question and answer session with the proprietor of the sanctuary.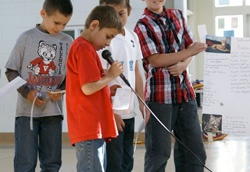 Week 11: Student Research Presentations
Student groups will share their research on the animal of their choice. They will provide information on the expenses, environmental needs, health care, nutrition, laws and exercise necessary to humanely care for this animal. Students will be encouraged to educate and creatively entertain their audience with their findings.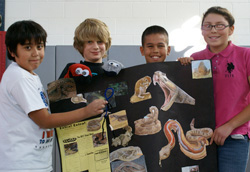 Week 12:  Wrap Up
Students will gather with the presenters and teachers to discuss what they have learned from The Animal Connection. Any unanswered questions will be addressed and students will be encouraged to comment on what they have learned as well as share their concerns. In addition, attitudinal/social changes that may have occurred because of the program will be assessed. Individual students, teacher and parent evaluations will be collected.